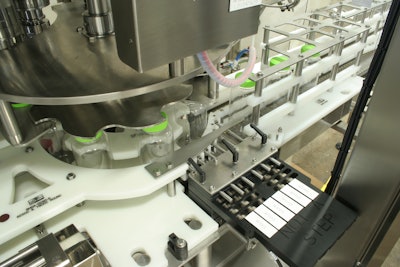 Fowler Products, powered by Pro Mach, introduces the eight-head Fowler/Zalkin CAS 8/360, a small-footprint capping machine for the pharmaceutical industry. The high-speed capper features fast changeover to accommodate a wide range of package sizes, a failsafe inspection and rejection system, and remote monitoring/remote services capability.
The CAS 8/360 capping machine delivers flexibility in the number of bottle sizes—from 30 to 900 cm³ at speeds of up to 240 bpm. To facilitate fast changeover the entire cap path, including cap handling, compact waterfall sorter, cap chute, transfer starwheel, and chucks, are all tool-less and quick-change. In addition, the torque on the capping heads is tool-less. The operator selects the required in./lb of torque from the scale etched into the capping head. This stainless-steel machine offers fast line clearance and is manufactured following GAMP standards.
The CAS 8/360 is also equipped with the company's highest speed inspection/rejection system. This quality control system can cap and visually inspect more than 900 bpm. Bottles failing inspection are shunted off to a reject lane before they leave the capping machine. The machine gently diverts a rejected bottle off to a reject lane so that the bottle remains upright and does not spill its contents, contaminating the packaging line. The machine can be equipped with the new ProTech by Pro Mach™ remote monitoring and remote service technology aimed at highest overall equipment effectiveness.
Companies in this article