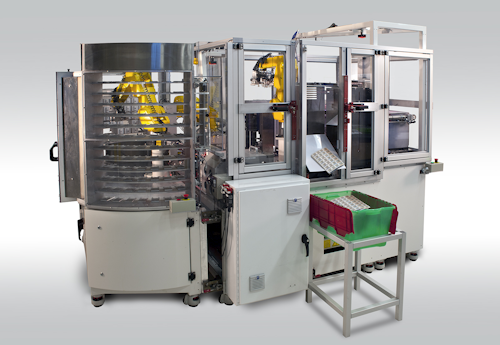 Omnicell Inc. announced the company's first fully automated multimed packing system to assist pharmacists in improving their patients' medication adherence. The Omnicell M5000 is designed to automatically pack, seal, verify, and label multimed blister cards for institutional pharmacies serving long-term care facilities, retail pharmacies, and hospital pharmacies serving ambulatory and discharged patients.

The M5000 multimed blister packaging system is designed to support pharmacies' efforts to help patients stay true to physician-prescribed medication regimens and to increase pharmacy profitability by improving practice workflow efficiencies and strengthening customer refill loyalty.
Going beyond the common practice of patients self-organizing their medications into pillboxes, the Omnicell M5000 system creates personalized adherence blister cards to simplify the medication consumption process. Beyond improving patient confidence and compliance, personalized adherence packaging gives pharmacists the ability to attract and retain new patients.

Omnicell is recognized as a leading provider of comprehensive, technologically advanced automation that enables health care facilities to acquire, manage, dispense, and deliver medications and supplies more effectively. Omnicell automation is used from the point of entry into the hospital through the central pharmacy, nursing units, operating room, procedural areas, and patient bedsides – as well as inlong-term care sites.
For over 20 years the mission of Omnicell has focused on improving the medication and supply distribution process. More than 2,800 acute care customers worldwide have used Omnicell's medication automation, supply chain, and analytics solutions to improve efficiency, reduce errors, and lower costs.
Omnicell non-acute care solutions, including the MTS brand, enable approximately 6,000 institutional and retail pharmacies worldwide to optimize productivity and control costs. Moreover, the innovative medication adherence packaging solutions can reduce costly hospital readmissions.
At Omnicell, delivering our technology is just the beginning. We are also committed to delivering the best customer experience. To ensure our customers gain the most utility from their Omnicell systems, we offer a suite of analytics software, a comprehensive training and education program, and first-rate customer support. Omnicell has been recognized with the KLAS award every year since 2006.
Companies in this article