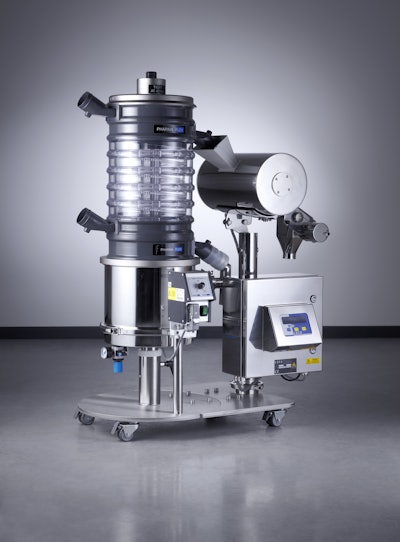 Pharma Technology Inc. (PTI) offers the EconoFlex Vertical Tablet Deduster for the dedusting and deburring of all tablet types.
The EconoFlex features a high pressure-molded polymer spiral composed of FDA-accepted material with a closed face surface (0.5µm RA) that does not scratch or discolor and is resistant to heat and alcohol. The high-tech materials and innovative design allow dust extraction to take place on the spiral's outer circumference, as close as possible to the tablets' path for optimized dedusting.
EconoFlex has the capacity for vertical height gain made possible by the machine's design. The taller outlet height allows a larger output container to be used; therefore, only one operator is needed, even when running a double-sided tablet press or high-speed capsule filler. EconoFlex's vertical design produces a small footprint, which helps save valuable space in the production room.
EconoFlex's spiral segments are stackable and dismountable for versatility and ease of use. This spiral system also affords varying gains in height, allowing for discharge after dedusting/metal detection in taller containers or drums at least 30 in. off the floor. The machine's noise level is low, and cleanup is tool-free. In addition, EconoFlex can be combined with metal detectors, which are available through Pharma Technology Inc.

Companies in this article