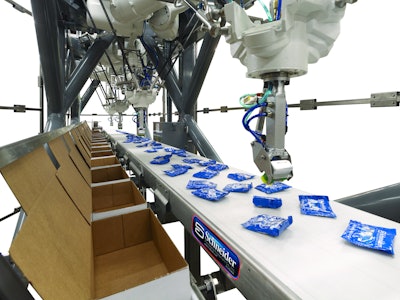 Schneider Packaging Equipment Company introduces the new high-speed top loading Robotic Vertical Carton/Case Loader (RVCL) equipped with FANUC Robotics delta robots for accumulating, top-load carton and case loading, in high-speed pick-and-place applications.
Designed to handle multiple products and packing combinations, the RVCL uses delta robots and vision to locate, inspect, orient, and nest product for high-speed top carton or case loading. The system is capable of loading standard RSC cases, HSC cases, top load cartons, and display trays. Product can be loaded horizontally for bulk packing or vertically for high-impact point-of-sale display trays. Equipped with advanced vision guided robotics, even products with a complex shape can be tightly packed, minimizing packaging materials, and maximizing sustainability.
The system is designed for very high efficiency—OEE—, rapid changeovers, simple maintenance, lower total cost of ownership, smaller footprint, and sustainable operations. The RVCL's design easily accommodates additional modules/robots for increased production. Additionally, Schneider can supply case and carton erecting, sealing, robotic palletizing, labeling, verification, stretch wrapping, quality control (x-ray, metal detect, check weigh) for fully integrated end-of-line solutions bringing primary packaged product right to the truck or warehouse.
All of Schneider's equipment can be fitted with ProAdjust, Schneider's unique auto-adjust system that simplifies changeovers. Additionally, Schneider offers a variety of ancillary equipment such as case erectors, cartoners, conveyors, pallet dispensers, shuttle cars, automatic guided carts, and elevators that can easily be integrated with coding/labeling equipment, RFID/barcode scanners, weight checking, and stretch or shrink wrapping equipment to provide a complete turnkey system solution.

Companies in this article