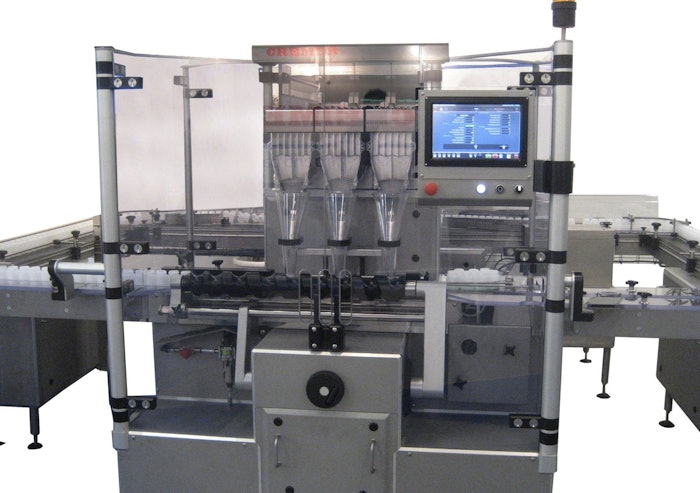 NJM Packaging introduces the Cremer CFS-622 Tablet Counter at its Pack Expo Las Vegas booth #1714. Servo-driven counting and filling system features a modular design that accommodates up to four counting modules to fill up to 170 bottles/min, based on 60-count bottles. It handles almost any size tablet, capsule, or softgel, and fills almost any bottle while achieving 100% counting accuracy at unprecedented speeds. Tablet counter increases productivity and maximizes efficiency within its compact footprint.
CFS-622 Tablet Counter features a main frame with fixed side panels that accommodate one, two, three, or four counting modules to meet the required output. The patented counting modules each feature six discharge channels that enable it to achieve outputs of up to 50 bpm per counting module, up to a maximum of 170 bpm. The number of counting modules can be modified in the field as production needs change.
The servo-driven feedscrew and "dipping" filling nozzles provide fast and accurate transportation and filling of almost any type of bottle. Servo-driven vibratory plates, product separator flaps, and discharge flaps provide fast and consistent product flow while minimizing maintenance.
Works with coated and uncoated tablets, capsules, and gelcaps from 3 to 30 mm (0.08 to 1.16 in.) in length and from 2 to 20 mm (0.08 to 0.79 in.) in diameter. It fills round, oval, and rectangular bottles made of glass or plastic that are 40 to 200 mm (1.6 to 7.9 in.) high and 20 to 125 mm (0.8 to 4.9 in.) in diameter.
Changeovers are fast and easy. The tablet format can be changed in seconds via the color touchscreen control panel by simply loading the new product recipe stored in the system's memory. Bottle size changes can be made in less than five minutes, with no tools required, by changing the feedscrew and the funnels.
With its GMP-compliant modular design, the tool-free removal of contact parts for cleaning requires no specific skills and takes less than two minutes to perform. The product contact parts are all made of food-grade materials and are suitable for autoclave cleaning. Optional cleaning trolleys can be used for convenient contact part cleaning and storage.
Cremer CFS-622 meets 21 CFR part 11 guidelines. All machine functions can be controlled and monitored via the intuitive user-friendly touchscreen control panel. The transparent enclosure enables easy accessibility while maintaining worker safety.
Because of its small footprint—only 3076 mm (121 in.) long and 1896 mm (74.6 in.) wide—this tablet counter can be easily integrated into new or existing pharmaceutical packaging and nutraceutical packaging lines.
The CFS-622 can be equipped with optional dust extraction and/or static elimination systems to prevent dust and product adhesion to the infrared product detection unit and discharge channels. The standard bottle reject mechanism guarantees that only correctly filled bottles pass through the outfeed conveyor.
Companies in this article