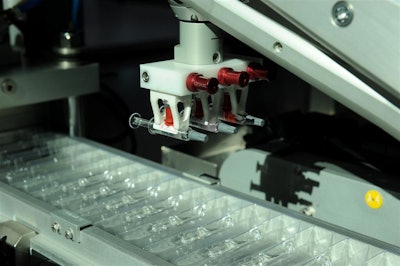 Marchesini's Unica is a robotized integrated tray packaging line able to integrate deep-draw forming and carton packaging into one monobloc unit.
Unica is built on the concepts of versatility, ergonomics, and efficiency, all in a compact space, and at a competitive price and high speed (up to 140 cartons/min).
Unica measures just 8 meters (just over 26 ft), the line is compact and easy to install, even in small workplaces, without sacrificing performance. This is due to using no intermediate transfer units.
The operator panel is unique as well as user friendly; operators can pull up all the parameters required to manage the whole line, providing an advantage.
Other important features include the infeed units, featuring two Robovision feeders, which are robotic solutions that are more flexible than conventional infeed systems. These robots are capable of picking up and handling individual products of any shape and size—syringes, needles, adapters, and various other objects/devices, even irregularly shaped ones—from a belt and feeding them to both the thermoformer and the cartoner with positive motion. In addition, the Robovision is able to place the products in a precisely defined position, aligning them in the specific packs.
Another main benefit: Unica's format changeover is completed without the use of tools and is guided entirely by the PC, making the process quick and straightforward.
Companies in this article