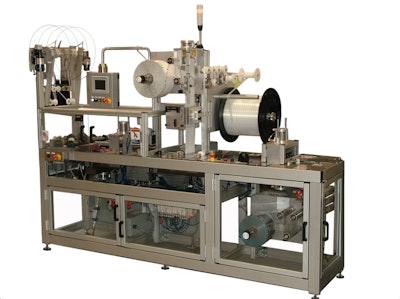 MDC Engineering announced a compact rollstock, zipper bag machine called the MDC MiniPac. It produces the look, feel, and finish of high-end blister packages for medical device and consumer packaging.
The MDC MiniPac boasts the smallest footprint of any rollstock machine with a zipper seal incorporated into it. In addition, one person can operate the system. The Minipac is ideal for medical device packaging applications where the product must be manually loaded or placed in the pouch prior to be sealed.
The MiniPac's powered unwinds and top-and-bottom web registration system allow users to run printed films on both the top and bottom webs. Included are splice and low web detection for each web. The MiniPac maintains registration throughout the entire run.
MDC chose to manufacture the system using 4-in. aluminum frames to ensure a solid and robust build while keeping the system affordable. An additional benefit is the open view of the inner components, which are completely guarded with a CAT 3 safety package.
The small footprint coupled with MDC's retractable form and heat stations allow users to stop and start on a dime. Now you can produce 10 bags or 1,000 on demand without wasting valuable materials.
Several cutting options are built-in, including a cross machine guillotine knife and rotary perforation cuts. In addition, the system incorporates several cutting-edge enhancements including a digital TTO over-printer for date coding, serialization, and package differentiation as well as integrated vision for film and product verification.

Companies in this article