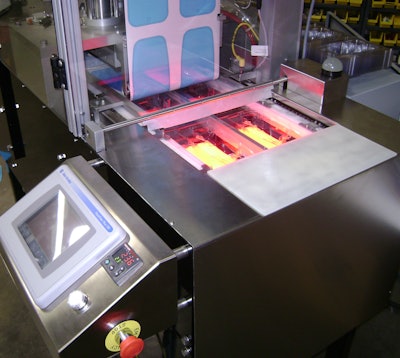 MDC Engineering, Inc.
 introduces Automated Tray Sealer with Full-Punch Die
Cutting technology that produces the look,
feel, and finish of a high-end consumer blister packaging without the
expense of a hf/f/s thermoformer machine.
Allows product manufacturers to fill, seal, and punch out the
finished package using multiple-up preforms. In addition, the system
accurately registers preprinted top films to each blister cavity prior to
cutting.
Dies cut clean round
corners, hole punches, and other intricate shapes with no film overhang or
rough edges. Machine puts precision packaging
within financial reach of companies.
In operation, the Automated Tray Sealer with Full Punch places the blister in the machine and the
product is placed into each cavity. The machine then precisely registers the
preprinted top film to the individual cavities prior to being "punched" out
by the integrated die. A retractable seal head with quick-change tooling
provides medical-grade seals and is accommodates changeovers. Other features include integrated date coder, product inserts, vision, and
bar-code verification tools for error free manufacturing.
The Automated
Tray Sealer with Full Punch
system is capable of 15 cycles/min and can process multiple blisters
simultaneously. Can produce more than 5 million pieces
annually with one operator.
Watch a video of
 the The Automated Tray Sealer with Full Punch.


Companies in this article