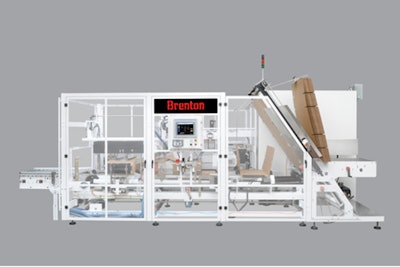 The advanced Mach-2P is a customer specification-compliant design and occupies smaller floor space on the packaging line than other indexing motion case packers.

The BrentonPro Mach-2P case packer is an all-servo driven, side-load case packer utilizing indexing motion to load up to 25 cases/min. It includes crucial features to medical and pharmaceutical manufacturers such as white powder coat or specified machine finish and redundant quality checks, including dual sensing for counting parts and camera inspection system.

The BrentonPro Mach-2P offers versatility and performance for nearly any case design. It reliably handles RSC, HSC, tray, wrap-around, knock-down, and harness for cartons, bottles, cans, and pouches. A continuous welded frame is standard for long service life. The lightweight aluminum guard package is seamless, built into the frame of the machine for a smaller footprint. It also eliminates gaps that can pose sanitary issues.

The Mach-2P is also ideal for anyone interested in increasing throughput, reducing automation costs, and using less floor space while maximizing manufacturing.
Brenton, powered by Pro Mach Inc., designs, manufactures and integrates a range of end-of-line packaging equipment.
Companies in this article