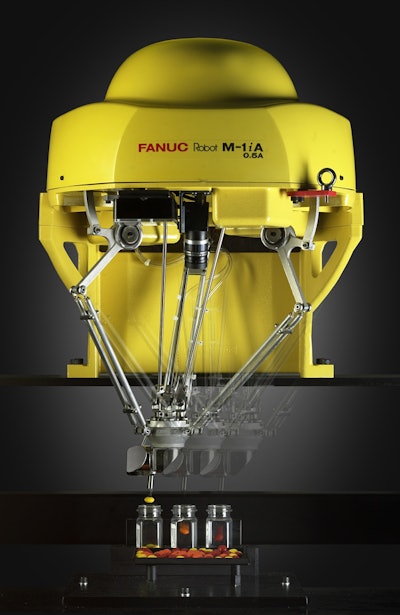 4-5. The Robotic Case Erecting and Loading System integrates a FANUC LR Mate 200iC/5L multi-axis robot with ESS-designed end-of-arm tooling (EOAT) to create a compact and low-cost case packing system.

Vacuum cups on the robot EOAT pick an RSC case blank from a magazine. The case is erected, the bottom is taped closed, and the case is placed in the loading position. For the Interphex PR demonstration, bottles will be fed to the robotic cell via a conveyor and collated into the correct 4x3 pack pattern. The robot will then pick the entire pack pattern and load it into the case. The case may be sealed manually, or can be integrated with secondary closing systems. The system will handle up to 5 cases/min, providing an automated alternative to manual case packing processes. The custom designed EOAT can be configured to handle a variety of products.

At Interphex PR, ESS and FANUC Robotics America will also demonstrate the M-1iA multi-axis robot in a pick and place / sorting application. The flexible M-1iA uses a color vision system to identify and pick "pills" of various colors and sort them into separate bottles. The M-1iA robot is a lightweight and compact robot designed for high-speed picking and small part handling. The unique parallel-link structure enables quick motion, and a camera for the iRVision system integrates easily into the robot housing. In the Interphex PR demonstration, the robot will sort pills at a rate of 100/min. Both the LR Mate 200iC/5L and M-1iA robots use the FANUC R-30iA Mate Controller, which is available in stand-alone and rack-mount configurations. The controller offers extended network I/O capabilities and supports a variety of intelligent functions, including iRVision and force sensing.
Companies in this article