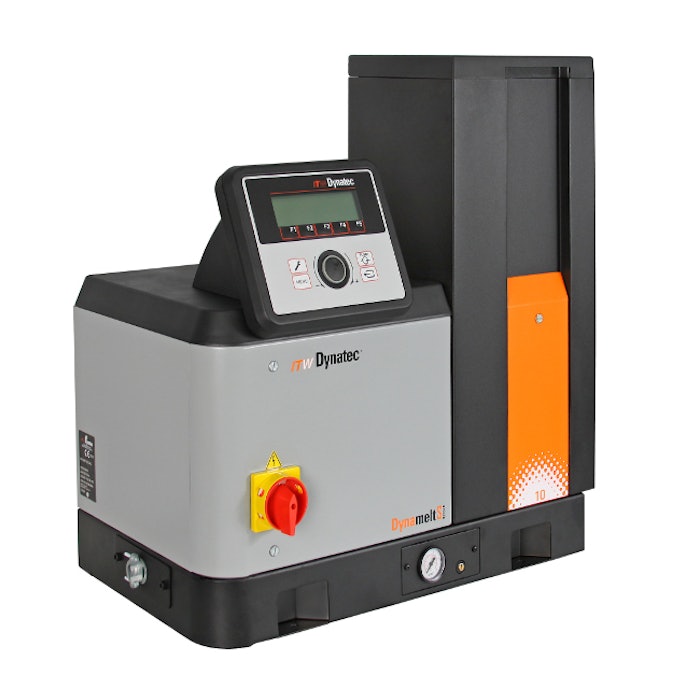 In response to end-user feedback, the new Dynamelt S is enhanced with design and performance features that make it easier to maintain and service, more flexible to install, safer to operate and less costly to own.

Featuring the company's Melt-on-Demand System, the equipment represents a major step forward for the industry in terms of operating efficiency, long-term reliability and sustainability in adhesive supply units. Ideal for food, beverage, and many other packaging applications, the Dynamelt S comes in a compact and flexible footprint for easy integration into OEM equipment and existing lines.

• Built with sustainability and total cost of ownership in mind, the new Dynamelt S consumes 20% less energy on average than similar competitive units.
• An advanced piston pump design permits low-air pressure operation, resulting in a significant reduction in overall air consumption.
• Dynatec's patented Melt-on-Demand System has been enhanced with a precision heat control zone in the manifold block. The independently heated manifold optimizes energy efficiency while facilitating faster warm-up times.
• The corner-mounted hose manifold is covered in a heat insulating jacket, both for user safety and reduced energy consumption.
• The primary filter boasts 15 times more surface area to provide easier and safer filter changes (filter comes out with the filter nut), thus reducing downtime. The larger filtration surface lasts longer, requiring less frequent changes and maintenance.
• A brand new feature in the latest generation Dynamelt S, advanced diagnostics (through a new ergonomic control panel) contribute to quicker troubleshooting and less downtime.
• The temperature sensors are easily accessible on the rear manifold of the machine, contributing to reduced maintenance.
• The new control panel can be positioned on the front, side or remotely away from the unit for easy viewing, and all system parameters can be viewed on one screen for quick evaluation.
• Nine corner-mounted manifold connections provide ultimate flexibility, ease of installation and saves on the length of hoses and power consumption.
• Instead of a PTFE coating that is commonly used in the industry, ITW Dynatec went to the armaments industry for a better solution - an exclusive Nano ceramic coating that is used on the inside of cannon barrels. This coating is five times more durable than PTFE and contains no PFOAs or flourachemicals.
• The Dynamelt S is finger safe to prevent electrical shocks to operator and maintenance personnel. A master power disconnect switch also contributes to safety and negates the need for an OEM to add a disconnect switch with separate lock-out.
Companies in this article