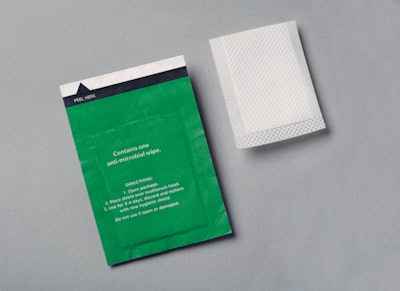 Design engineers working on medical and dental applications are always looking for new ways to package products. However, finding the right material and adhesive combination can be tricky. Cold-seal adhesive technology offers an alternative to traditional packaging techniques. Working with an experienced materials converter, design engineers can explore cold-seal alternatives at the beginning of the design phase to help avoid unnecessary changes later in the process.

Cold-seal adhesives are based on mixtures of adhesive components and natural latex rubber. Since 1999, the FDA has required that cold-seal adhesives that use natural latex rubber in medical packaging be labeled appropriately due to allergens attributed to natural latex rubber. To accommodate this ruling, synthetic rubber-based cold-seal adhesives have also been developed to take advantage of the low temperature, low cost, and bonding benefits of cold-seal technology.

Cold-seal adhesives are used for wound dressing applications and are usually available in paper film, transparent plastic film, and transparent carrier film and paper combinations. Cold seals are also available with sealing forces ranging from low at 0.5N/15 mm to higher at 4.0 N/15 mm. The low peel forces are desirable mostly for bandages applied to children.

Why use a cold-seal product? Cold-seal adhesives are a special type of pressure-sensitive adhesive (PSA) that forms a strong bond at room temperature with very slight pressure. Sometimes called cold seal, self-seal, or cohesive seals, they are applied to each of the substrates that will bond together. Cold-seal adhesives bond only to themselves; they exhibit no tack to other substrates. As a result, they don't require a release liner. For some applications, this simplifies assembling materials within the paper packaging, without damaging the contents.

The base polymer used in cold-seal adhesive formulations must be able to bond to itself with only slight pressure and, at the same time, be hard enough to resist bonding to another substrate during storage and assembly. The polymers that provide the best autohesion characteristics include natural rubber, polyisoprene, butyl, and certain formulations of silicone rubber. Typical cold-seal formulations combine a natural or synthetic rubber elastomer (usually a latex) with a tackifier and other compounds.

Assembling the cold-seal package

For a typical cold-seal package, two separate pieces of cold-seal paper are printed. Then using a rotary press, the product is placed between the paper rolls, the layers of paper are squeezed together to form a seal, and the final package is die-cut to meet specifications.
The rotary press features six die stations, four laminating stations, and a one-color printing station with water-based or UV-cured ink. Electronic web tension controls provide precision registration, maximizing cutting accuracy and improving material economy.

The rotary press is used for processing a variety of materials for applications that may include insulation for transformers, surface protection for primed or painted surfaces, and tamper-evident labels for medical supplies. Material types include films, foils, and adhesive label stock with thicknesses ranging from 0.001 in. to 0.015 in., widths up to 13 in., and lengths up to 22 in.

The press can be used for intricate, closely nested die patterns, with tolerances to +/- 0.005 in. The machine also has rewinding capabilities for rolls with a diameter of up to 16 in., and sheet-and-stack capabilities. Final assembly includes kitting the cover packages into the appropriate numbers for inclusion into custom boxes.

Working with the right converter

The ability to investigate alternatives and to apply different technologies to meet a design challenge is a critical capability that manufacturers require in a converter. Medical and dental applications might require ultrasonic welding, multilayer lamination of films and adhesives for skin contact, experience in producing dressings to secure IVs, surgical drapes, and customized hydrocolloid dressings.

For example, in the design of antimicrobial packaging, ultrasonic welding provides a strong seal without heat; plus, it delivers a repeatable, reject-free product without seal contamination, while streamlining production.

Ultrasonic welding uses high-frequency, low-amplitude vibration to create heat between the two materials being joined. When used with plastics, it is important that both materials are made from similar amorphous polymers and have near equivalent melting points. The thermal rise in the bonded area is produced by the absorption of vibrations, and by the friction of the surfaces of the parts. The material plasticizes locally, creating an insoluble connection between both parts within a short period of time.

The joint quality is uniform because the energy transfer and the released heat remains constant and is limited to the joining area. Ultrasonic welding is fast and clean and is suited for small parts like the microbial-resistant cover.

For complex foam tape die-cut components, water jet die cutting provides a solution that delivers clean-cut edges with the foam material. Laser die cutting, kiss cutting, slitting, and laminating can also be used in converting for medical applications.

In many instances, a converter can also provide extensive label printing capabilities for tamper-evident and custom pressure-sensitive labeling of medical devices. An experienced converter has strategic relationships with world-class materials suppliers to assist its customers in selecting the best material for the intended use, and to expedite materials sourcing. Whether adhesive films or liquids, critical material properties are considered by the converter in any project, including chemical, thermal, and moisture resistance. The converter will understand the impact of material selection on the overall manufacturing process, and design material systems that optimize production efficiency and improve overall cost-effectiveness.

--Article contributed by Heather Doughty, technical sales representative, and Tesfaye Leta, product process developer with Fabrico, a designer, prototyper, and manufacturer of flexible materials and bonding, joining, and sealing solutions for medical and other applications.