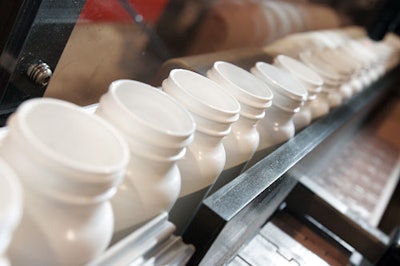 Marking equipment used for bar coding and data printing was the most frequently mentioned packaging machinery employed at pharmaceutical and nutraceutical facilities according to the recent "Pharmaceuticals and Nutraceuticals" Packaging Intelligence Brief from the
Packaging Machinery Manufacturers Institute
(PMMI).
Beyond marking, labeling, case packing/sealing, and conveying/feeding machinery also ranked high among the 71 purchasing authorities at pharmaceutical and nutraceutical firms responding to mid-2007 telephone calls.
Cost, aftermarket support, and company reputation were cited as the three most important considerations when selecting a packaging machine/manufacturer. Other highlights from the report included the following:
• Packaging machinery builders will need to satisfy validation compliance matters.
• Data acquisition capabilities imbedded in the machine make the user's regulator compliance easier. Product traceability, online maintenance, and vision inspection were also mentioned as benefits of real-time data.
• Half of the respondents believe there are cost advantages to sustainable packaging practices. Package designers face challenges by the multiple facets involved in going green.
PMMI's Web site listed the following six executive highlights of the market research:
1. Pharmaceutical manufacturing moving to offshore production is greatly tempered by the need for full FDA compliance and the threat of counterfeiting drugs, so much of the production will remain in the U.S.
2. The role of contract manufacturing continues to increase. The most important advantages are cost savings from reducing capital expenditures, flexible line changes, smaller batch runs, supplementing equipment that manufacturers don't have in-house, a reduction in the number of lines dedicated to one product, and getting a product to market more quickly.
3. The move to blister packaging and away from bottles will continue to grow for greater convenience with tablets and capsules. There is a push for products to enhance user convenience, which will drive new and unique delivery systems.
4. The top challenges that packaging machine builders will need to address in the future to satisfy the demand for validation compliance are product traceability, online diagnostic software, vision inspection systems integrated on their machines, and the ability to receive control system upgrades from remote locations.
5. Sustainable packaging requirements continue increase and challenge package designers to go green, adhering to the demand for more recycling and reducing package weight and volume.
6. Anti-counterfeiting requirements will continue to grow in importance, with a trend toward RFID and slight increases in the use of holograms, color-shifting and covert markings. A decrease in bar-code checks and noncontact inspection technology is predicted as RFID gains a foothold.
The Pharmaceutical/Nutraceuticals Packaging Machinery is available for $2,500. E-mail
pfeldman@pmmi.org
, or call 703/243-8555 for more information.