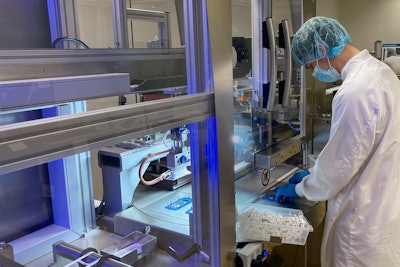 With over 65 years in business, Sharp is a contract packaging company offering assembly, labeling, and packaging of pharmaceutical and biopharmaceutical products.
They sought a new system for packaging filled syringes, with high cost-effectiveness, maximum flexibility, and easy handling as priorities.
The contract packager selected a line based around the KDT medplus® turntable machine from KOCH Pac-Systeme from Pfalzgrafenweiler in the Black Forest. The KDT is a compact, GMP-compliant system for the safe handling of sensitive medical technology products.
"We held talks with three potential suppliers for this project," explains Toon Verstraeten, project engineer at Sharp Packaging in Hamont-Achel, Belgium, where the machine would be installed. "KOCH delivered the best concept—both in terms of the line itself, as well as the support and overall pricing. We had an extremely ambitious schedule due to our customer's deadline, as well as the additional challenge presented by the Covid pandemic. KOCH was highly motivated and flexible in supporting our aims."
---
---
Efficient and secure processes
The syringes and needles that Sharp packs are manually inserted into preformed, automatically fed blisters on the KDT medplus. These prefabricated, PET blisters come from a supplier in Switzerland. During this process, the line uses an inspection system to check for correct positioning and integrity of the products in the blister—this is key with such a sensitive product. An integrated thermal inkjet printer, in conjunction with a further inspection system, ensures that the Tyvek® lid material is perfectly printed with the customer's logo and variable, product-specific information.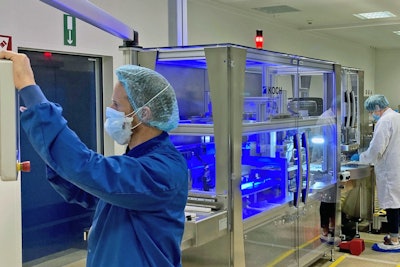 Once the presence of the lid forming material has been checked, the filled blisters are thermally sealed using a sealing tool patented by KOCH. In general, KDT medplus achieves an output of 12 cycles/min, depending on packaging material/shape, and sealing duration.
The KOCH Audittrail Pack–a digital service package from the machine manufacturer– ensures full monitoring of machine data in compliance with GMP and 21 CFR Part 11 requirements. It's one of nine service packages–called K4.0 smartpacks–which were introduced in 2020 and designed to offer more productivity, increased availability, and optimized overall plant effectiveness.
Flexible adjustments
Simple format changes and high energy efficiency also contribute to economical operation and uptime. While the line is currently dedicated to their customer, the KDT medplus machine was built with flexible adjustments in mind for the future—the KDT medplus can be flexibly converted to accommodate new package and product sizes.
For years, KOCH has been a trusted in partner in developing machines for packaging medical products. Says David van Loo, global account manager at KOCH, "In this project, we were able to assist Sharp in an advisory capacity and thus tailor the KDT to individual requirements. With this order, we hope to have laid a foundation for further exciting projects with Sharp."
Companies in this article