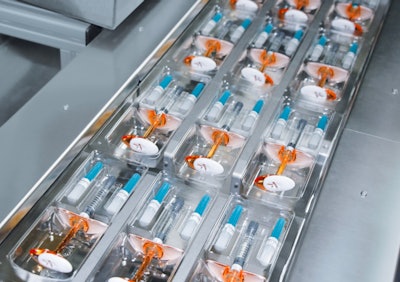 Aesthetic procedures have been gaining popularity for years. The American Society of Plastic Surgeons reports that total cosmetic surgical procedures have increased 22% since the year 2000. "Many patients invested their vacation funds in their own appearance and took advantage of working from home and the obligation to wear masks to heal and recover in peace," reports Koch, a provider of blister packaging and cartoning systems.
Paris-based Laboratoires VIVACY specializes in injectable medical products including those that treat wrinkles. "The strong growth is great, but presents us with real production challenges in the packaging process," explains Ludovic Heim, responsable méthodes et maintenance at VIVACY. "KOCH Pac-Systeme has therefore implemented a solution with us to further automate the packaging process and integrate blister production into the company. This new line enables us to improve quality, reduce our production waste and cut our logistics costs."
With over 50 years' experience in developing packaging lines, KOCH used its expertise in aesthetic medical products to evaluate with VIVACY, who sought to reduce logistics efforts, warehousing, and space requirements associated with blister production—an important factor at the production site in Archamps, France.
They also had a goal of using materials as efficiently as possible to minimize resource consumption and production waste. The VIVACY production site also serves as a reference object, which is why a high-quality design of the plant played a decisive role.
Sustainability: six instead of three blisters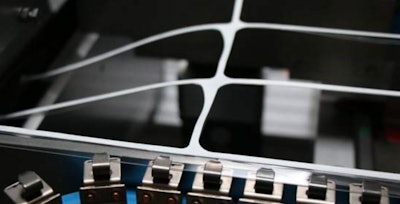 KOCH configured a KBS-KF blister machine for VIVACY. Multiple control systems with cameras guarantee high packaging quality, while integrated blister production reduces logistics costs while boosting quality and flexibility.
"As the environmental impact was a key aspect for VIVACY, it was important to find a resource-saving solution that minimizes the amount of waste. KOCH therefore equipped the punching station of the KBS-KF with a double feed system," reports KOCH. "This places six instead of three blisters on one section of the foil belt and reduces the distance between the blisters to a minimum. This smart arrangement can save 10% of material for both the PET forming material and the Tyvek lidding film."
"In a project like this, a lot of expertise and active consulting is needed. And KOCH - a specialist machine builder – scored on both points. With the new packaging line we have high-tech equipment that is ideally suited to our way of working and our high-quality products," says Heim.
Companies in this article