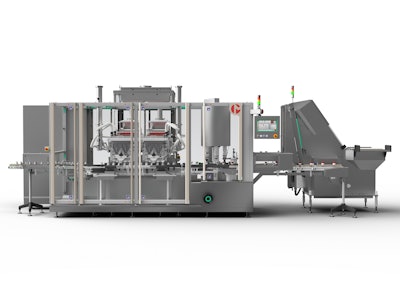 At PACK EXPO Las Vegas, Marchesini Group is showcasing its new Compact 24, a flexible and efficient nutraceutical counter at Booth SL 6535. This monobloc machine, produced by the company's Tonazzi-Vasquali division, fills and caps bottles for tablets, capsules, or pills, offering companies efficiency in covering multiple operations in a single machine.
What makes the system unique is its simple changeover process for various product formats in small- to medium-sized batches. This is accomplished with an innovative magnetic transport system allowing for individualized handling of every single bottle.
The counting section consists of two heads each with 12 channels, equipped with a "twin flap" system which allows the machine to reach a speed of 150 bottles/min.
To accommodate manufacturers' varying needs, the system is designed with flexibility in mind:
Counter 24 accommodates screw, press-on, and crimp capping systems.
It offers product control for weight, shape, size, and color. Controls can be enabled together or separately, depending on customer needs.
Based on the type of production, the machine can be fitted with operator protection systems (RABS) or product protection systems (Laminar Flow).
The company is also displaying a new turbo-emulsifier for processing liquid and cream products.