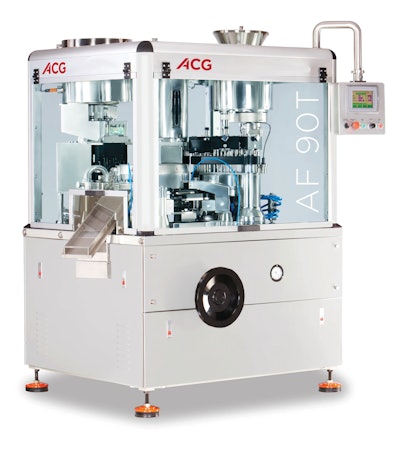 ACG, a supplier of end-to-end manufacturing solutions for the pharmaceutical industry, recently helped a prominent U.S. pharmaceuticals company increase batch yield for a product whose dust-prone formulation was resulting in unacceptable wastage of more than 5%. In 2019, modifications made by ACG Capsules Technical Services Team to the manufacturers' four ACG capsule filling machines resulted in drastically reduced product waste and vastly diminished equipment downtime, according to the company.
The project involved ACG's AF-90T Capsules Fillers, which can produce up to 90,000 capsules per hour.
The key issue with this application was dust. The moderate build-up of dust, which isn't actual dust but rather lost product, is endemic to most capsule filling operations, with the amount of dusting relying, in part, on the properties of the specific formulation being filled. As it ramped up production on a particularly dust prone drug, The parma company realized that dust build-up was leading to product waste levels exceeding 5% and, due to frequent cleaning breaks, extended machine downtime.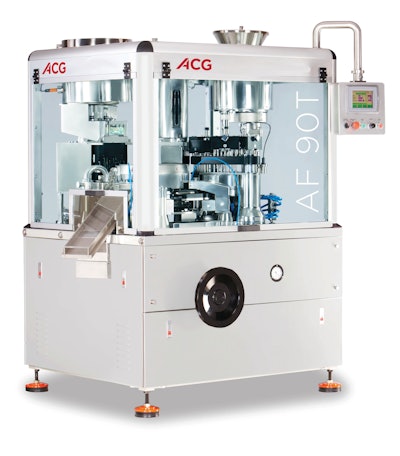 Typically, excipient dust is collected via vacuum with an anti-dust component. While generally efficient, this results in waste of expensive formulation, as the particles collected here cannot be reused, according to ACG. Tasked with getting product waste beneath a stated two-percent threshold, ACG's capsule engineer determined that, considering the intricacies of the customer's formulation, reducing the dusting was not possible; this being the case, the best option was to collect the powder in such a way that it could be reused.
Utilizing custom-made attachments, ACG's Capsule Technical Team designed and fabricated a dust collection unit made from stainless steel. Powder collected in the trays could then be reused with the formulation at regular intervals. At the same time, ACG modified the tamping plate assembly and eliminated bearing jamming to help prevent unnecessary downtime.
ACG then trained the pharma company's production personnel on the new protocol, to ensure that the updated system was properly implemented.
The workaround worked even better than anticipated: product loss was cut to about 1.7% and dust-related machine downtime was reduced to near-zero.
"This project showcases ACG's willingness and ability to maximize the efficiency our equipment has at our valued customers' facilities," says Dan Pereira, global head of Technical Services for ACG Capsules. "In a landscape as diverse and crucial as pharmaceuticals manufacturing, some formulations will inevitably require innovative, out-of-the-box thinking to design solutions that ensure long-term production viability."
Companies in this article