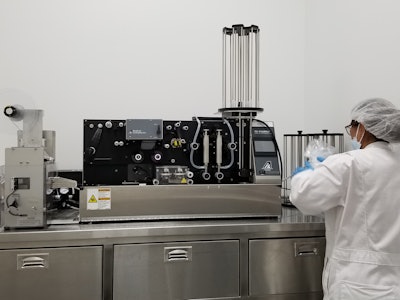 Manufacturers and regulatory bodies are increasingly looking at the way packaging plays a role in proper dosing of controlled substances.
WES Pharma Inc., a Maryland-based specialty pharmaceutical company,manufactures a controlled substance for oral dosage that, until recently, was distributed in 500 mL bottles.WES saw a need in the market to add single-use packaging for the low-viscosity liquid product.
"We were originally looking at our options and were planning to outsource the packaging of smaller dosages down to a quantity of 5 mL," says Rick Ferguson, Director of Manufacturing at WES, which offers research, development, manufacturing and marketing of both OTC and prescription generic products in liquid and solid form.
"We went to visit a contract packager where another product was being manufactured and decided that if a machine doesn't take up much space, it would be ideal to bring packaging in-house," he says.
Challenges
Floorspace and accuracy were key decision points for WES when they sought a new packaging machine. As Ferguson explains, "Because this is single-unit packaging and not multi-dose units, the biggest challenge is accuracy. There's a regulatory requirement that the weight of 10 containers has to average out to 100% of target."
Implementation
Ferguson selected the FD-Pharma™ Series II from Medical Packaging Inc. for its accuracy and compact size. Designed for small pharmaceutical manufacturers and CDMOs, the machine offers dual-head, liquid unit-dose cup packaging at speeds up to 35 cups/min. All label information is printed online including both static information and variable data such as lot and expiration dates. Cups are composed of high density polyethylene (HDPE) with peelable sealant HDPE lidding.
The positive displacement pumping system features two programmable linear drive stepper-controlled stations, each with 50 mL stainless steel syringes that are autoclavable. Measuring just 37 in L x 14 in W x 18 in H, the system fits in well at WES' facility.
"The machine is very accurate and easy to use," notes Ferguson. "Change parts are limited. With disposable tubing, the only thing that I need to worry about cleaning or product-dedicating is the syringes. They're made of surgical-grade 316 stainless steel. It's an ideal situation for a low-maintenance and easy-to-clean unit."
Track and trace
The machine is equipped with the ability to print barcoded or human readable serialized labels at the unit-dose level. "At WES Pharma, we have not utilized this feature yet since our lowest saleable unit is a carton. However, having a machine capable of performing the serialization on each individual cup may be a feature we can use in the future," he notes.
WES began using the machine for commercial manufacturing at the end of 2018, and as Ferguson says, "It's basically been non-stop. We typically run the machine six days a week, provided staff are available on weekends." Currently the company runs one shift per day, but to meet customer demand they run an extended 12-hour day as needed.
"Everything went smoothly when the machine was brought in. Previously, I worked for a large pharmaceutical equipment manufacturer, so I judge service and response time by those that I used to work for. Medical Packaging has given me both great service and prompt responses," explains Ferguson.
Die-cut option
Since WES purchased the system, Medical Packaging introduced a second generation of the machine with a die-cut option to trim the lidding. Performance of the FD-Pharma led WES Pharma to purchase a second machine to double their output, and the first machine was sent out to add the die-cut feature. With this new feature, the machine operates at speeds up to 23 cups/min. "We'll run both of them simultaneously drawing from the same tank," he notes.
New package format
The FD-Pharma Series II allowed WES Pharma to bring a new product to market that offers convenience for patients and healthcare providers.
Another critical benefit, Ferguson says, is the size of the machine. "Because it saves space, I can make room in the facility for other processes to run concurrently." The machine only requires one person to run it, but because it's a GMP product, they bring in two people to fill the required documentation. Ferguson notes, "Staff-wise and space-wise, it's a low-maintenance piece of equipment, which offers considerable cost savings."