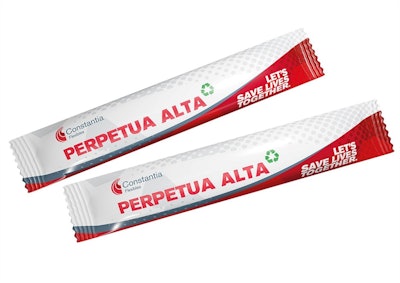 Constantia Flexibles will be showing a range of its packaging solutions at PACK EXPO International Booth W-15031 - Healthcare Packaging Pavilion.
The Constantia Flexibles' Perpetua sustainable packaging solution is made of recyclable polypropylene-based mono-material. Its excellent barrier properties make it ideal for pharmaceuticals. Perpetua protects products in the best possible way from oxygen, water vapor, and light. This is essential to maintain the efficacy of medicines. In addition, the product line is cyclos-HTP certified, which means that its recyclability is between 90 and 96%, depending on the individual material specification. The further development of Perpetua ALTA is based on polypropylene (PP), is recyclable, and has a high chemical resistance to pharmaceutical products. It can therefore be used for excessively demanding products from both the pharmaceutical and food industries. The unique characteristic of the mono-material solution is the combination of sustainability and resistance. In addition, compared to conventional laminates, it is lighter, has higher efficiency, and offers optimal protection against oxygen, water vapor, and light.
To prevent children from getting hold of the contents of medicines, all Constantia Flexibles product lines are available in various child-resistant designs. These can be individually designed. Constantia Flexibles also invests in the further development of counterfeit-proof components of packaging because around 10 to 30% of the world's medicines are counterfeit. The original medication's high level of security can only be guaranteed if the outer packaging is equipped with identification features, and the primary packaging shows counterfeit-proof features. Many of Constantia Flexibles' product lines are therefore available with anti-counterfeiting features.
In addition to the innovations, Constantia Flexibles will be presenting its established product lines at the PACK EXPO International. Further high-performance packaging for different applications, such as oral, injectable, or pulmonary administration, can be found at the Constantia Flexibles Booth W-15031 - Healthcare Packaging Pavilion.
Companies in this article