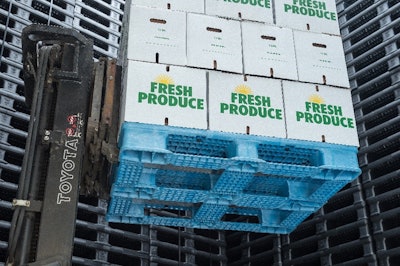 The Polymer Solutions International ProGenic® GMA+ plastic one-piece, non-halogenic pallet is FM approved, FDA CFR-21 compliant, and NSF approved for safe handling in food, pharmaceutical, and cleanroom environments.
The ProGenic GMA+ is available in two sizes—40 in. x 48 in. x 5.62 in. and 1,000 mm x 1,200 mm x 140 mm—which places it between the ProGenic standard-duty and ProGenic heavy-duty versions of the pallet. The ProGenic GMA+ comes with a standard weight of 41 lb and fits 540 40-in. x 48-in. pallets per truck load (53 ft), while the 1,000-mm x 1,200-mm size can ship 7% more, or 576 pallets per truck load (53 ft).
Ryan Overcash, director of sales, Polymer Solutions, says, "Food recalls from bacterial contact is a costly issue today, so top food producers care about how their finished goods are distributed to retailers. Supply chain and distribution safety is paramount for our customers and the goods they are transporting. Our new ProGenic GMA+ pallets are the latest in PSI's market leading hygienic pallet product line."
The ProGenic GMA+ was made to work seamlessly in high-capacity and high-speed automated systems. It is sturdy and remains more consistent in weight, dimensions, and cleanliness over time, as opposed to most wood pallets. The pallet is system ready for automation, which is important as warehouses continue to adopt a variety of automated stacking and retrieval systems.
Companies in this article