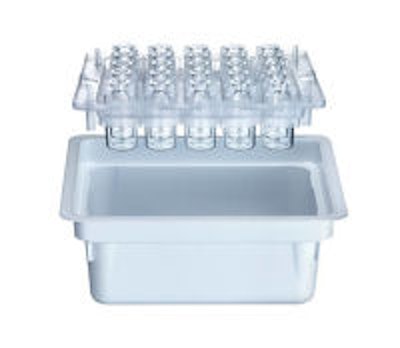 As part of SCHOTT's iQ™ platform, the global RTU standard, adaptiQ® vials come in the same nest dimensions and industry-standard tub format as the company's RTU syringes and cartridges. The standardization allows pharmaceutical companies to run the various containers on the same filling line while minimizing changeover times in between. As a result, pharmaceutical companies gain flexibility in response to rapidly changing market demands. At the same time, this ensures patient safety with high-quality RTU containers.
With the rise of biotech and personalized medicine, pharmaceutical manufacturers are required to fill different injectable drugs in low volumes and various dosage formats. Subsequently, the demand for ready-to-use (RTU) components and flexible filling technologies is growing.
The adaptiQ® RTU vials, now available in 2/4/6/8/10/15/20/25/30 R ISO formats, allow for more flexible manufacturing concepts and more efficient filling. The vials are fixed in a patented nest that securely holds as many as 100 clean and sterile vials in an industry standard tub. That eliminates the hassle for pharmaceutical companies to perform non-core processing steps themselves including washing, drying, and sterilization and ultimately lowering the total cost of ownership (TCO).
adaptiQ® vials are made out of FIOLAX® borosilicate glass tubing. The nest design ensures that no glass-to-glass or glass-to-machine contact takes place throughout the entire fill and finish process, reducing the risk of glass breakage while maintaining the high cosmetic quality. Vials are manufactured at the company's production site in USA and are ready to order.
In the accompanying image, adaptiQ vials are shown held by the neck. They can be processed in the nest or de-nested if required. The freely accessible bottom is key for ensuring perfect temperature transition during lyophilization.
Companies in this article