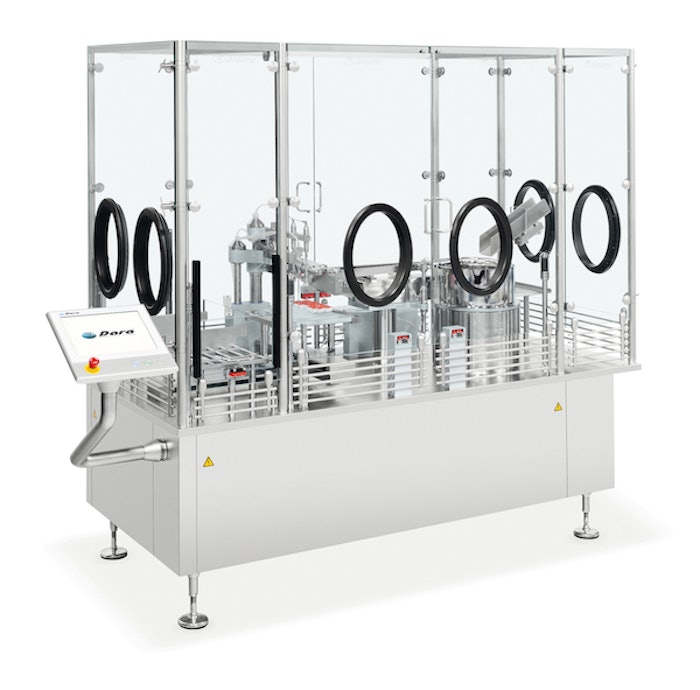 NJM, a ProMach product brand, introduces the Dara NFL/2-RDL aseptic filling and closing machine for ready-to-use vials utilizing the RayDyLyo® cap. Handling nests of pre-sterilized vials and eliminating the crimping required with traditional aluminum closures, this fully servo-driven system streamlines the packaging operation to reduce capital costs, minimize footprint and speed changeover.

Dara NFL/2-RDL was developed for biotech companies and 503B pharmacies and can be used from scale-up through small batch commercial manufacturing. Utilizing ready-to-use vials simplifies small-scale production by eliminating the need for a washer and depyrogenation tunnel. Using the RayDyLyo cap further simplifies operations by eliminating crimping and the particulate generation that comes along with that process.
After introducing the high-speed Dara SX and HSL series machines for RayDyLyo caps last year, the company's offering of this NFL system is for customers with smaller capacity requirements that will benefit from this stopper/cap technology. This compact system provides the added value of syringe and cartridge processing capabilities in the same machine.

The NFL/2-RDL fills solutions, suspensions, diagnostics or vaccines in glass or plastic vials in sizes ranging from 2R to 50R with dose volumes from 0.1 to 50 mlL Vials are filled and sealed while in the nest.
Standard features provide automatic loading and unloading of nested vials, while options facilitate either automated or semi-automated debagging and delidding. The system can be changed over to handle a different vial size in less than 15 minutes with no tools required.

Dara designed the NFL/2-RDL to seal vials with ARaymondlife's patented RayDyLyo caps—re-assembled plastic closures that feature a rubber stopper within the cap to minimize the "pop-off" effect and eliminate the risk of stoppers adhering to freeze dryer plates. Available with Central Tear-Off (CTO) for injectable products and Total Tear-Off (TTO) for product reconstitution and mixing, RayDyLyo closures come in 13-mm and 20-mm sizes.

A vibratory hopper/circular feeder delivers the RayDyLyo caps to the pick-and-place stations, which places the caps onto the vials using direct drive, servo motion control. The NFL/2-RDL can be programmed for full stopper insertion for non-lyophilized products or half stopper insertion for lyophilizated products.

The dual-station NFL/2-RDL offers a throughput of up to 4,500 vials/hr and a footprint that is only 2 meters long and 1 meter wide. For customers needing higher speeds, the five-station NFL/5-RDL handles up to 10,000 vials/hr.

Featuring a wide variety of options, NFL/2-RDL can be equipped with stainless steel or ceramic rotary piston pumps, which can achieve +/- 0.5% accuracy, or with peristaltic pumps, which can achieve +/- 1% accuracy. Options include laminar air flow (LAF), open or closed restricted access barrier systems (oRABS/cRABS) or high-containment isolator systems where sterile or ISO 5 environments are needed. If required, vacuum-assisted cap insertion or gas flushing can help reduce O2 levels in the vial. Statistical process control and particulate counters are options to help ensure final product quality. Clean-in-place (CIP) or sterilization-in-place (SIP) modules are also available.

The servo-driven, X-Y motion on the NFL/2-RDL provides repeatable performance, low maintenance, simple troubleshooting, fast changeovers and easy addition of new formats. An Allen-Bradley PLC controls machine functions and a Beckhoff PC-based 15-in. (38 cm) color touchscreen presents a large and intuitive user interface. All production parameters can be programed into the PC, including dosing volumes and speeds.

The NFL/2-RDL can be equipped with data recording software to export the production data in compliance with 21 CFR Part 11. Featuring a 304 stainless-steel frame and electro-polished 316 stainless-steel product contact parts that meet FDA approval for use by pharmaceutical and biotech manufacturers, the NFL/2-RDL is designed in compliance with cGMP.

NJM offers a "total solution" approach that includes IQ, OQ, FDS, FAT and SDS validation support as well as turnkey line integration services to seamlessly combine best-in-class technologies.
Companies in this article