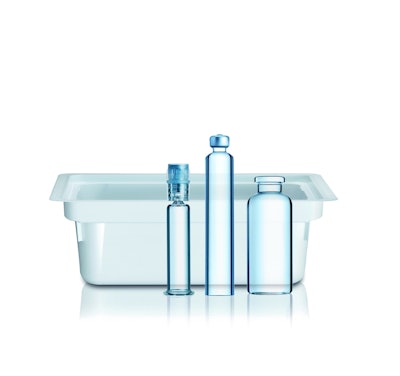 Schott's iQ™ is a holistic concept that standardizes ready-to-use (RTU) syringes, vials, and cartridges within a single tub format to run on the same filling line, minimizing changeover time in between.
The platform relies on the nest-and-tub format, which has been used by the pharmaceutical industry to fill syringes for decades. It is compatible with a diverse array of filling line models from different manufacturers. The platform was developed to help pharmaceutical companies retain flexibility in response to rapidly changing market conditions and demand, while ensuring patient safety with high-quality ready-to-use containers.
The concept covers syriQ® prefillable syringes and adaptiQ® ready-to-use vials, as well as the new cartriQ™ ready-to-use cartridges, which are scheduled to be made available in 2018. A versatile portfolio of container formats and options is available for any pharmaceutical application.
Over the past several years, the number of blockbuster drugs in the development pipeline has decreased, while the number of biopharmaceuticals and other small-batch drugs has increased. This has put pressure on pharmaceutical and biotech companies to find flexible ways to fill small batches and/or different containers for different markets. iQ will help manufacturers quickly change from batch to batch or from vials to syringes or cartridges, and from drug to drug, as it is based on proven industry standards. Schott is developing the iQ platform in collaboration with the world's largest filling line suppliers to standardize packaging dimensions and simplify the entire filling process. In addition, Schott works with the world's largest elastomer component suppliers to ensure the offering of pre-validated and flexible container systems.
The iQ platform was designed to:
• Maximize flexibility with a versatile portfolio of RTU containers and closure components to match a broad range of filling machines.
• Reduce complexity by standardizing packaging, which speeds up installation and qualification times, reducing manufacturers' time to market.
• Enhance patient safety with the highest quality containers, packaged to eliminate cosmetic defects, container breakage, and particle contamination.
Companies in this article