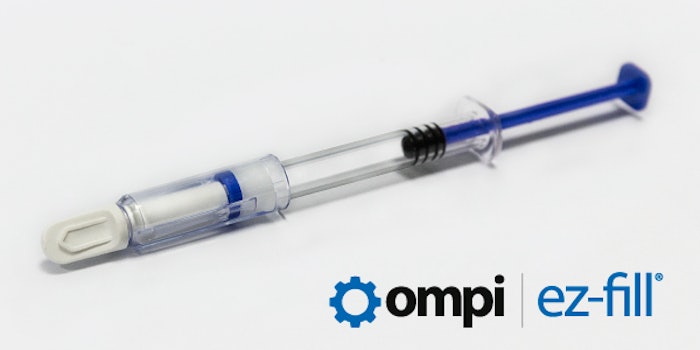 Ompi expands itsOmpi EZ-fill® Syringesoffer by adding up anIntegrated Safety System (ISS) for staked needle syringes. Ompi EZ-fill® ISS is a brand new fully passive safety system designed toguarantee end users' safety and reduce total cost of ownership for the pharmaceutical companies.
Ompi EZ-fill ISS is the first development within theplatform licensed by Tip-Top, a primary designer of proprietary safety needlestick protection devices and technologies. Based on their mini-Max design,Ompi EZ-fill ISSavoids piercingafter rubber needle shield removal, providing an end-user experience similar to a standard syringe.
Ompi EZ-fill ISS meets end users' safety andintuitive use, and itenables pharmaceutical companies to maintain the glass primary container of choice. Ompi EZ-fill ISS is designed tofit existing fill-finish formats.It is supplied in astandard nest and tub configurationfor easy processing on current fill-finish lines, with asignificant reduction in terms of total cost of ownership.
The Integrated Safety System is the result of a rubber needle shield inserted in a plastic shield with flexible wings, combined with a ring and a hub, pre-assembled on the Ompi EZ-fill® Syringe. Its functional performances allowlocking the needle inside the safety device with no possibility to expose it again, after usage.
Ompi EZ-fill ISS was developedfor all formats of staked needle syringesand it iscustomizablein terms of needle gauge and length, barrel volume, ISO standard rubber components and siliconization.It meets the needs of different drug products applications such as biotech, heparin and vaccines.
Companies in this article