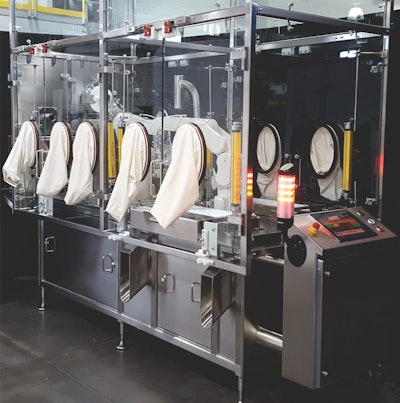 ESS Technologies' new TaskMate® Robotic Syringe Filler and Capper integrates two FANUC clean class LR Mate robots with OEM-supplied RABS (Restricted Access Barrier System) to meet the stringent requirements for 503B sterile pharmaceutical compounding applications.
The system is designed the to increase production speeds and efficiency, reduce scrap and rework, and reduce overhead while protecting both products and employees from contamination. The system can fill and cap up to 15 syringes/min.
The TaskMate® Syringe Filler/Capper incorporates FANUC LR Mate 200iD clean class robots with the RABS and an ESS flexible feeding system. Empty syringes are manually fed through a sterile rapid transfer port into the ESS-supplied, vibratory hopper, dropping them gently onto a flex feeder with a powered, backlit, vibratory conveyor.
The spreading tray moves parts forward to a FANUC 2D guidance vision system that allows the first LR Mate 200iD robot to pick syringes one at a time. When no parts are available, the robot will turn the spreading tray on and signal the vibratory hopper to feed additional parts. Once the camera sees available parts again, the conveyor and vibratory hopper stops. The robot, utilizing a custom-designed vacuum-style end-of-arm tool (EOAT), picks a syringe from the flex picker conveyor and transfers it to the filling station.
The filling system uses a stainless steel, servo-driven, volumetric pump, which is provided with an input connection to attach the filling nozzle to the product supply bag. A precise amount of liquid is dispensed from the bottom, up. Caps are manually fed via a drawer that can be pulled out from the RABS to load and unload trays of caps.
The second FANUC LR Mate 200iD robot, also utilizing a custom-designed vacuum-style EOAT, picks a cap from the tray and places it into the torque station. A servo-driven pick-and-place unit transfers the syringe from the fill station to the final torque station. For screw type Luer-Lok caps the system will rotate the syringe to apply torque. A precision force sensor will detect the correct amount of torque and supply a pass/fail signal to the system. (The capping system will handle both press-on and tamper-evident Luer-Lok screw-on caps through the use of change parts.) The robotic system discharges the filled and capped syringes via a divided gravity chute to a customer-supplied discharge bin. In the event of a station error, bad syringes are discharged via the opposite side of the chute for customer inspection. Optional tray loading or conveyance systems may also be added to the system.
Companies in this article