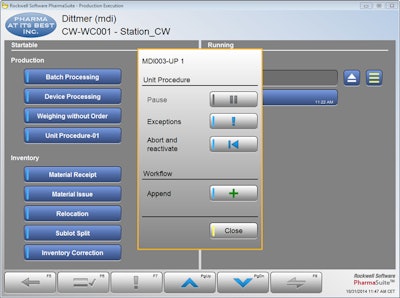 Rockwell Automation's PharmaSuite manufacturing execution system (MES) software offers medical device manufacturers that combine discrete and batch processes in their operations a sole track-and-trace platform that achieves tracking capabilities down to the smallest saleable unit.

The PharmaSuite v7.0 software extends its proven batch track-and-trace capabilities, already used by some of the world's largest pharmaceutical producers, into the discrete environment. This provides hybrid capabilities for the growing market of combination products that require both batch and discrete assembly processes, such as medical devices that are combined or coated with a pharmaceutical ingredient during production.

Discrete and batch processes have historically required separate track-and-trace systems, but PharmaSuite v7.0 software reduces the need for disparate systems. Consolidating multiple track-and-trace systems into a single system can reduce implementation, training, and maintenance costs for medical device manufacturers and improve their overall agility as they prepare to comply with impending product traceability regulations.

To help make high-throughput production operations more efficient, the PharmaSuite v7.0 release includes streamlined usability patterns at the workstation level. This allows assemblers to quickly identify the correct components and view assembly instructions with the scan of a barcode.

The software also includes order management and electronic device history record (eDHR) support to ensure the assembly process for every medical device is tracked and documented. Rework and repair capabilities also help streamline tasks for any devices requiring such work.

New dashboard filter capabilities allow end users to filter product criteria by 20 different attributes, including exceptions, orders, and batches, to customize the dashboard to their specific roles. Quality assurance personnel, for example, can use the filter to instantly sort through thousands of devices and view only those with exceptions. Once created, the customized filters can be saved and stored for future use.

Companies in this article