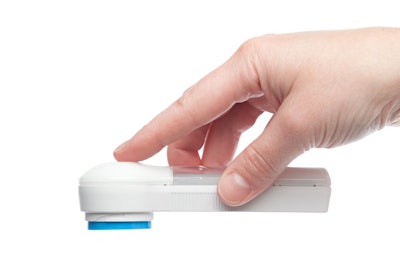 3M Drug Delivery Systems Division introduces the 3M hollow micro-structured transdermal system (hMTS) for pharmaceutical and biotech companies interested in conducting preclinical studies. 3M hollow micro-needle technology offers patient-friendly intradermal delivery for difficult-to-deliver biologics. It also provides an updated design based on human factors testing and customer research.
With patients' needs in mind, human factors refinements to the 3M hMTS include a textured grip and the capability for non-specific actuation. A cap protects the micro-needle array. After removing the cap, the patient adheres the single-use delivery system to the skin of his or her thigh or abdomen and presses down to begin dosing. An audible click provides assurance that the system has been activated. Once applied to the skin and activated, the delivery system does not need to be held in place, leaving patients' hands-free. The dosage delivery status is visible as a blue indicator that moves across the progress window. Wear time ranges from 15 seconds to 5 minutes, depending on the volume and viscosity of the drug.
The new design improvements provide differentiation for drug products intended for dexterity-challenged patients while offering the capability to deliver liquid formulations from 0.5 mL to 2 mL with a range of viscosities.
Companies in this article