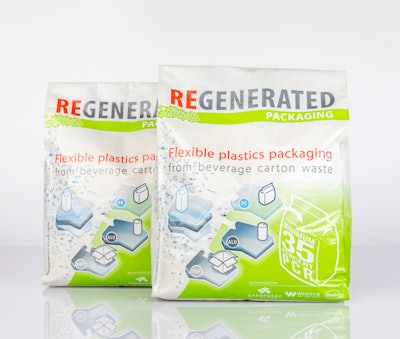 Saperatec, a developer of recycling processes for composite packaging comprised of various materials, debuted a fully circular flexible packaging prototype based on its multi-layer delamination technique at the K Fair Trade Show in Düsseldorf. At the show, Saperatec engineers showcased and discussed a detergent package which, at 35% post-consumer recycled content (PCR), meets goals proposed for the pending EU Directive on Packaging & Packaging Waste.
Among the first consumer flexible packaging materials made from post-consumer packaging waste, the prototype is produced in collaboration with Germany-based packaging film supplier Wentus, whose mono-polyethylene flexible packaging design allows for easy recyclability, and adhesives, sealants, and functional coatings provider Henkel, which supplies the package's recycling-optimized adhesive. Currently marketed by Wentus as Wentoplex® Pure R, the marketing design recently received 18 of 20 points from Germany-based recycling alliance Interseroh.
The prototype is made possible by a promising new technology: Saperatec's extended mechanical recycling process for thin-layer composite materials, which results in virgin-similar recyclates. A two-layer design made entirely from polyethylene (PE), its inner sealing layer comprises more than 50% PCR rLDPE from beverage carton waste. Its outer layer is printed with less than 50% surface coverage, and laminated with Henkel's optimized adhesive for recyclability. Overall, the packaging will contain at least 35% PCR rLDPE, in line with the proposed recommendations for the EU Directive regarding non-food packaging.
Saperatec's approach results in recycled materials that can replace virgin raw materials in numerous applications, including film or foil-based packaging. Importantly, the process adds no contaminants to recycled polymers, and all chemicals used in the process comply with EU food-contact regulations. Its technique is applicable for composite packaging comprised of various combinations of plastic, metal, and glass.
Companies in this article