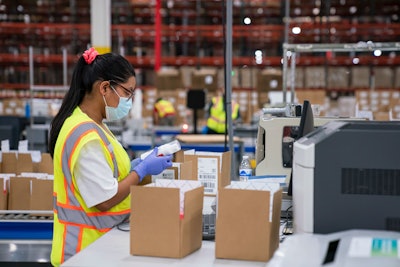 DHL Supply Chain, the contract logistics specialist within Deutsche Post DHL Group, is now offering its commercial customers on-demand packaging solutions to make shipments more cost effective and environmentally friendly. The AI solution OptiCarton helps optimize the filling volume of boxes from an existing, pre-configured set of cartons and can even suggest the splitting of an order into several consignments to make individual shipments more cost effective or reduce their carbon footprint.
Customer research conducted by DHL Supply Chain revealed that 24% of e-commerce package volume is empty space. Using sophisticated carton optimization algorithms combined with an on-demand approach to packaging within the distribution center helps brands and retailers produce the right package at the right time for each shipment, driving down transportation costs, minimizing waste, and ensuring the product is protected. With OptiCarton, DHL is not only responding to the current shortage in cardboard boxes and packaging materials in the market, but initial pilots also indicate that the solution offers customers additional benefits in the shape of shipping-cost savings of up to 35%, with an average of 15%.
"Packaging has become one of the highest priorities for many e-commerce providers who are seeking solutions to optimize the utilization of existing pack sets with the power of artificial intelligence," says Alicemarie Geoffrion, president, packaging operations, DHL Supply Chain. "Based on the products, volumes, and sizes in question, the software not only suggests the optimal size of the outer packaging, it also provides individual, visual instructions on how to ideally utilize the space inside the box. It's like a game of Tetris, effectively arranging the contents within the parcel to achieve effective cost and emissions savings."
According to initial calculations, an optimally pre-configured and well-utilized set of cardboard boxes can save as much as 50% in superfluous shipment space. This greatly reduces the number of truckloads, allowing commercial customers to save costs with regard to oversized cartons and filling material, as well as shipping, by eliminating unnecessary transports. Furthermore, the solution can provide recommendations as to whether and how an order should be split up to optimize the shipment configuration, making the solution particularly end-consumer friendly.
"At DHL Supply Chain, we are continuously working to improve our services and adapt them to the changing needs of our customers. Digital solutions in particular are firmly anchored in our global strategy, helping us to operate more efficiently and sustainably," adds Geoffrion. "The growth of e-commerce has heightened awareness of wasteful packaging among consumers. An on-demand packaging AI solution like OptiCarton, in combination with the optimized utilization of packing material and transport capacities, offer incredible leverage when it comes to saving costs, reducing carbon emissions, and improving the customer experience—all at the same time."
Companies in this article