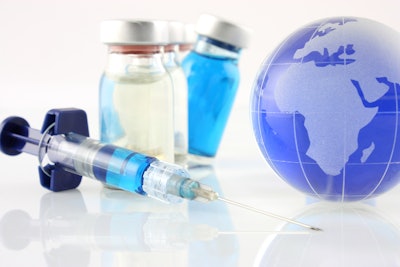 With athletes around the globe competing in the ongoing Pyeong Chang 2018 Olympic Winter Games in South Korea, the timing seems appropriate to evaluate the global pharmaceutical packaging demand.
According to The Freedonia Group's new study, in Global Pharmaceutical Packaging, 12th Edition, the global pharmaceutical packaging demand is projected to advance 6% annually to $112 billion in 2021. Behind the growth? Aging populations, rising levels of acute and chronic conditions, and new product introductions.
The report notes that Russia, China and India will lead future growth as they upgrade and diversity drug-producing capabilities. Still, notes Freedonia, the U.S. will remain the largest market based on volume and mix of drug shipments and the adoption of stricter packaging requirements.
The report posits that Western Europe will continue to make up the greatest share of pharmaceutical packaging demand. Demand in this region is spurred by the large, advanced drug-producing industry that develops new packaging systems and introduces sophisticated therapies with specialized packaging needs.
Looking at packaging formats, the Freedonia report predicts prefillable syringes will post the fastest gains of any pharmaceutical container, increasing 9%/year through 2021. Demand will be supported by expanding applications in the administration of critical care, emergency, and self-injectable parenteral medication.
Freedonia also notes that blister packs will witness above-average growth, based on patient adherence benefits.
Advances in biotechnology, nanotechnology, and other sophisticated drug delivery technologies will increase the range of pharmaceuticals adaptable to this packaging.
The 345-page report, Global Pharmaceutical Packaging, 12th Edition, is available for $6,700 from The Freedonia Group, by contacting Corinne Gangloff by phone 440.684.9600 or email [email protected].
Companies in this article