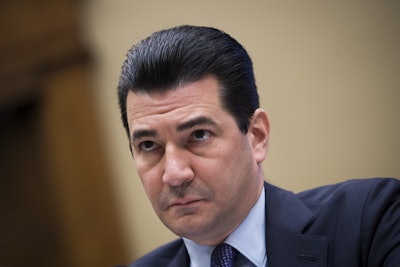 In mid-November, the U.S. FDA made several announcements addressing hot topics in the life sciences fields.
The agency granted a new indication to an electric stimulation device for use in helping to reduce the symptoms of opioid withdrawal.
"Given the scope of the epidemic of opioid addiction, we need to find innovative new ways to help those currently addicted live lives of sobriety with the assistance of medically assisted treatment. There are three approved drugs for helping treat opioid addiction. While we continue to pursue better medicines for the treatment of opioid use disorder, we also need to look to devices that can assist in this therapy," said FDA Commissioner Scott Gottlieb, M.D. "The FDA is committed to supporting the development of novel treatments, both drugs and devices, that can be used to address opioid dependence or addiction, as well as new, non-addictive treatments for pain that can serve as alternatives to opioids."
The NSS-2 Bridge device is a small electrical nerve stimulator placed behind the patient's ear. It contains a battery-powered chip that emits electrical pulses to stimulate branches of certain cranial nerves. Such stimulations may provide relief from opioid withdrawal symptoms. Patients can use the device for up to five days during the acute physical withdrawal phase. Opioid withdrawal causes acute physical withdrawal symptoms including sweating, gastrointestinal upset, agitation, insomnia and joint pain.
The FDA cleared the EAD (electro auricular device, now called Bridge Neurostimulation System) in 2014 for use in acupuncture. FDA's granting of the current request for the NSS-2 Bridge expands the use of the device as an aid to reduce the symptoms of opioid withdrawal. It is available only by prescription. The device is contraindicated for patients with hemophilia, patients with cardiac pacemakers or those diagnosed with psoriasis vulgaris.
Regenerative products
FDA also announced a comprehensive policy framework for the development and oversight of regenerative medicine products, including novel cellular therapies.
Gottlieb said, "We're at the beginning of a paradigm change in medicine with the promise of being able to facilitate regeneration of parts of the human body, where cells and tissues can be engineered to grow healthy, functional organs to replace diseased ones; new genes can be introduced into the body to combat disease; and adult stem cells can generate replacements for cells that are lost to injury or disease. This is no longer the stuff of science fiction. This is the practical promise of modern applications of regenerative medicine.
"But this field is dynamic and complex. As such, it has presented unique challenges to researchers, health care providers, and the FDA as we seek to provide a clear pathway for those developing new therapies in this promising field, while making sure that the FDA meets its obligation to ensure the safety and efficacy of the medical products that patients rely upon. Alongside all the promise, we've also seen products marketed that are dangerous and have harmed people. With the policy framework the FDA is announcing, we're adopting a risk-based and science-based approach that builds upon existing regulations to support innovative product development while clarifying the FDA's authorities and enforcement priorities. This will protect patients from products that pose potential significant risks, while accelerating access to safe and effective new therapies," he noted.
The framework – outlined in a suite of four guidance documents – builds upon the FDA's existing risk-based regulatory approach to more clearly describe what products are regulated as drugs, devices, and/or biological products. The framework includes two final guidance documents and two draft guidance documents. Both draft guidance documents will have 90-day comment periods.
The suite of four guidance documents deliver on important provisions of the 21st Century Cures Act, including FDA's promise to fully implement the Regenerative Medicine Advanced Therapy (RMAT) designation program, which is designed to expedite the development and review of regenerative medicine advanced therapies.
Puerto Rico hurricane relief update
Gottlieb also wrote about the impact of IV fluid shortages following hurricane destruction and resolve manufacturing shortfalls. He said, "It's been nine weeks since Hurricane Maria made landfall on Puerto Rico and the island continues to struggle to recover from the devastation brought by this storm, as well as Hurricane Irma.
"As I've commented on previously, the medical products industry has a significant presence in Puerto Rico, and the disruption to this industry has had ramifications for patients both on the island and throughout the U.S. The FDA has been working closely with federal and Puerto Rican authorities to help stabilize the medical products manufacturing sector. We're taking steps to mitigate or avert product shortages but we've still seen shortages of certain medically important products, some of which are sourced primarily or only in Puerto Rico.
"Most significantly to date, hospitals across the country are reporting shortages of IV fluids, particularly sodium chloride 0.9% injection bags—a type of saline bag. Saline IV fluids, which are used to inject drugs intravenously in hospital and outpatient settings, have been intermittently in shortage dating back to 2014. However, despite our best efforts, the situation in Puerto Rico has greatly exacerbated this supply issue. The FDA understands the concerns and impact of the ongoing shortages of IV solutions. These products have been on the list of approximately 90 medical products (which includes biologics, devices and drugs) that the FDA has been monitoring since the storm hit, and the FDA is actively working to address the shortage.
"Among the steps the FDA is taking, in conjunction with manufacturers of these products:
• Temporarily allowing the importation of IV saline products from facilities outside of the U.S.;
• Encouraging the expansion of production at existing facilities to meet shortfalls; and
• Expediting our review of new product applications that will help address this shortage."
Gottlieb said FDA is working with Baxter "to help them restore operations in their Puerto Rico facilities and move critical ingredients and products onto and off the island. Additionally, the FDA recently approved IV solution products from Fresenius Kabi and Laboratorios Grifols. Both companies are expected to increase production of saline products in the coming weeks. We believe steps like these will help to improve the shortage situation over time."
The agency continues to work with local and federal authorities, and manufacturers of saline and other products, to help address the needs caused by challenges to the basic infrastructure on Puerto Rico.
"This includes steps to help a subset of critical production facilities gain access to fuel or generators," noted Gottlieb. "We're also connecting companies to other parts of the federal and local government to help clear roads or secure transport priority to import critical raw ingredients. Going forward, access to reliable power is integral to ensuring Puerto Rico-based medical product manufacturers return to full production capacity quickly. This is the focus of a lot of effort. Unfortunately, most manufacturers are still relying on generator power, and even those that have returned to the electrical grid continue to face interruptions as the grid is rebuilt."
He noted, "This shortage will require a sustained effort by industry, the agency and other partners to return to production levels that adequately meet the needs of patients. For our part, the FDA will continue to do all we can to address this shortage. We also want to discourage hoarding of products by some healthcare providers. We're concerned that shortages of some products may be exacerbated in part because of hoarding behavior."
Companies in this article