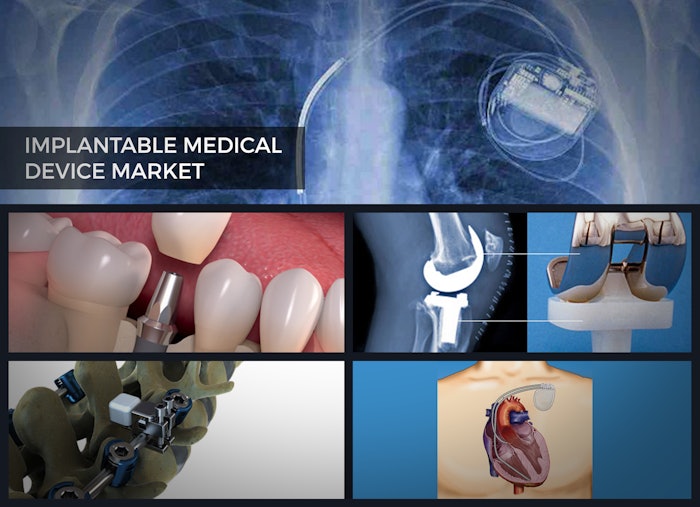 The implantable medical devices market is driven by an increase in geriatric population, rapid technological advancements, growth in the incidence of chronic diseases, and an upsurge in adoption of advanced implantable medical devices.
Factors limiting the market include the high cost of implantable medical devices and limited coverage of insurance. Another negative: the implantable medical devices market has matured in developed regions. However, and increase in awareness for implants among individuals has supplemented the market growth in the emerging economies.
These are among the findings of a new "Implantable Medical Devices Market Report."
Published by Allied Market Research (AMR), the report forecasts the global market to garner $116,300 million by 2022, which represents a Compound Annual Growth Rate (CAGR) of 7.1% between 2016 and 2022.
North America accounted for nearly half of the global market share in 2015, and is projected to maintain its dominance during the forecast period.
A deeper dive
AMR expects cardiovascular implants to grow at a CAGR of 6.5% from 2016 to 2022. Growth here is attributable to the rising prevalence of cardiovascular disorders (CVD), technological innovations, an increasing geriatric population and favorable reimbursement policies by government and healthcare agencies.
The other implants segment is expected to register the fastest CAGR of 10.6% during the forecast period, due to increase in prevalence of neurological diseases, craniomaxillofacial deformities, and eye disorders, and a preference for cosmetic surgeries.
The U.S. was the major contributor to the revenue of the North American market due to growing awareness about the use of medical implants and high prevalence of chronic diseases in the region. Although the market has attained maturity due to the widespread adoption of these devices over the past few years, the introduction of technologically advanced devices is expected to provide ample scope for future market growth.
Key findings of implantable medical devices market include the following:
The orthopedic implants segment generated the highest revenue in the global market in 2015, accounting for one-third share.
The reconstructive joint replacement segment accounted for nearly two-thirds share of the global orthopedic implants market in 2015.
Reconstructive joint replacement was the highest contributor in the orthopedic implants market and projected to grow at a CAGR of 3.4% from 2016 to 2022.
In terms of volume, the spinal implants segment is estimated to grow at a 6.5% CAGR.
The intraocular lens segment was the predominant segment in 2015 expected to grow at a CAGR of 7.9% (in volume) during the forecast period.
The Asia-Pacific region is projected to show the fastest growth rate during the forecast period due to high demand for medical implants, healthcare reforms for infrastructure development, and high prevalence of chronic diseases. In addition, growing awareness about the benefits and availability of implantable devices and presence of high unmet needs in the emerging markets, such as India and China, drive the market.