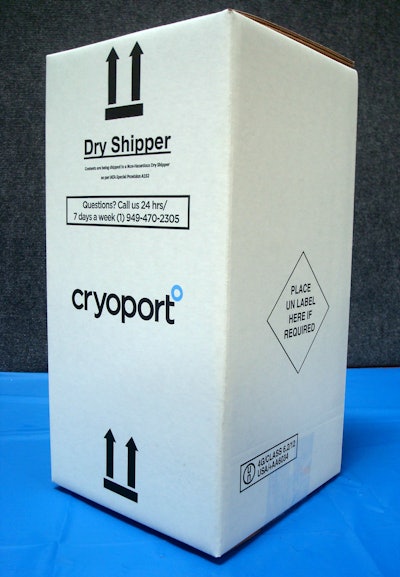 CombiMatrix, based in Irvine, Calif., is a clinical diagnostic laboratory specializing in cytogenomic testing for prenatal diagnosis, miscarriage analysis, and pediatric developmental disorders.
The company's CombiPGS™ is a preimplantation genetic screening (PGS) test offered to help increase the chances of having a viable pregnancy. CombiPGS is used by intended parents wanting to increase implantation rates when undergoing IVF treatment, improving live birth rates, reducing the risk of miscarriage, or increasing the confidence of embryo selection for single-embryo transfer.
"We are looking forward to working with Cryoport," says Mark McDonough, President and Chief Executive Officer of CombiMatrix. "The sensitivity of our tests requires across the board reliability, which is also a strict mandate for all of our partners. CombiMatrix has built a reputation as a high-touch, high-complexity molecular diagnostics laboratory, and we choose partners that will help us continue to deliver phenomenal service to our physician customers and their patients. Cryoport's validated cryogenic logistics solutions give us great confidence that our CombiPGS service will have dependable access to the global market."
Jerrell Shelton, Chief Executive Officer of Cryoport, adds, "Our relationship with CombiMatrix further extends our commitment to the field of reproductive medicine including IVF clinics.We think CombiMatrix's ability to enable preimplantation genetic screening paired with our global cryogenic logistics competencies for the IVF market dramatically enhances the support of intended parents."
CombiMatrix provides molecular diagnostic solutions and comprehensive clinical support to foster high-quality in patient care. CombiMatrix specializes in pre-implantation genetic screening (PGS), prenatal diagnosis, miscarriage analysis, and pediatric genetics, offering DNA-based testing for the detection of genetic abnormalities beyond what can be identified through traditional methodologies. CombiMatrix performs genetic testing utilizing a variety of advanced cytogenomic techniques, including chromosomal microarray, standardized and customized fluorescence in situ hybridization ("FISH") and high-resolution karyotyping.
Cryoport provides global cryogenic logistics for frozen eggs, embryos, and sperm, serving the reproductive medicine market. Cryoport works with more than 260 clinics in the U.S., in addition to clinics in more than 80 countries worldwide. The company's logistics network is validated. In addition to normal lanes of traffic, Cryoport has successfully shipped thousands of samples to locations as diverse as Nepal, Malaysia, and Vietnam.
Companies in this article