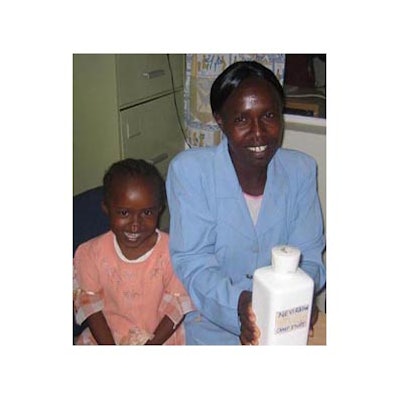 [Editors note: This is an expanded version of a story initially posted Dec. 4, 2014.]
The Bill & Melissa Gates Foundation recently provided a grant to various research centers in Kenya, Senegal, Nigeria, and India to support the use of the Medication Event Monitoring System (MEMS™), from MeadWestvaco Corp. (MWV) in a number of HIV pre-exposure prophylaxis (PrEP) clinical trials. Designed to help prevent the spread of HIV/AIDS in sub-Saharan Africa and India, the studies launched in Oct. 2014.
"This application is not necessarily unique from a packaging perspective, but what is unique is how the data collected by the MEMS Cap will be used in clinical practice," explains John Musaus, Global Head, Electronic Adherence Solutions, MWV Healthcare. "At each site, healthcare professionals will use the measured drug dosing histories (record of taking the medicine correctly) to coach individual participants in the studies to improve their adherence to treatment protocol."
Orally administered PrEP medications are given to high-risk but HIV-negative people, and have been shown to prevent transmission of the virus when people are adherent to their medication program[i]. The MEMS System measures, monitors, and improves adherence. It has previously been used in pivotal studies for HIV medications including Gilead's TRUVADA®, the first oral HIV medication the FDA approved for PrEP.
"PrEP medications are transforming the way we approach the global HIV/AIDS battle, offering a promise of protection against this deadly virus," says Bernard Vrijens, PhD, Chief Science Officer, MWV Healthcare. "However, this transformational intervention is only effective when people adhere to the prescribed dosing regimen. MWV Healthcare is grateful for the opportunity to join with the Gates Foundation in this important research, helping to understand and increase adherence to these life-changing medications."
What is it and how does it work?
MEMS is an electronic monitoring system designed to compile the dosing histories of ambulatory patients prescribed oral medications. The system includes a standard plastic vial with threaded opening and a closure for the vial that contains a micro-electronic circuit that registers dates and times when the closure is opened and when it is closed.
MEMSCap smart electronic medication packaging tracks each time the medication bottle is opened, wirelessly transferring that information to MWV Healthcare's MedAmigo™ platform, a secure, web-based program for data analysis and modeling. Data transfer is possible with various technologies including BlueTooth Low Energu. NFC, and Wirelss GSM GSM (sim card) readers, using not only clinical site PCs, but also tablets and smartphones.
Musaus explains: "To facilitate logistics, medicine in its original bottle packaging is sent through customs directly to the clinical sites. At the sites, staff members remove the original cap and replace it with the MEMS Cap. During this process, the MEMS Cap is initialized and assigned to the specific trial participant so it can be tracked in the backend database. The robustness of the MEMS comes from the fact that it works with most standard pharmaceutical bottles. The trial participant does not need to perform any extra steps to use the MEMS Cap apart from the normal opening of the bottle to take the medication. The MEMS Cap detects the opening and stores each event in its memory together with a date and time stamp."
During the foundation's trials, MWV's scientific staff will analyze adherence data and provide trial coordinators with real-time feedback about each participant's adherence. When provided to participants, this real-time feedback at the point of care has been shown to be the most effective adherence intervention available[ii]. In recent draft guidance, FDA recommended using smart medication packaging to measure and enhance adherence in clinical trials.[iii]
MWV manufactures and assembles the MEMS Caps in its facility in Sion, Switzerland, but does not manufacture the generic bottle. They are designed for use with oral solid medications. Although MWV reports that MEMS Cap has been used in a small number of clinical studies using syrup formulations for a pediatric population, technical limitations exist in using it with liquids/syrups in that they could damage electronic and mechanical components over time.
"MEMS Caps work with most standard pharmaceutical bottles," notes Musaus. "Since the production and distribution of the MEMS Caps will be done outside and in parallel with the primary drug production and packaging, there are no implications on the standard production and distribution lines. The normal procedure is to ship the MEMS Caps to each clinical trial site. The MEMS Cap uses standard electronic components. There are no specific requirements for transportation and storage."
Because these trials in Africa and India involve modest quantities, Musaus says there are no requirements for automation and the project involves "basic fill techniques." And with the clinical trials "just getting fielded," he says it's too early to know of market response from the medical community and patients in Africa and India.
References:
[i] Baeten, et al, N Engl J Med 367, 399-410, 2012
[ii] Demonceau et al. Drugs 73:545-562, 2013; Vrijens et al. Expert Review Clin Pharmacol 7(5):633-44, 2014
[iii] Guidance for industry: Enrichment strategies for clinical trials to support approval of human drugs and biological products, FDA U.S. Food and Drug Administration. 2012 Dec. Accessed Aug. 25, 2014.
MEMSCap smart electronic medication packaging system tracks each time the medication bottle is opened, a corollary for measuring when a pill is taken.
Companies in this article