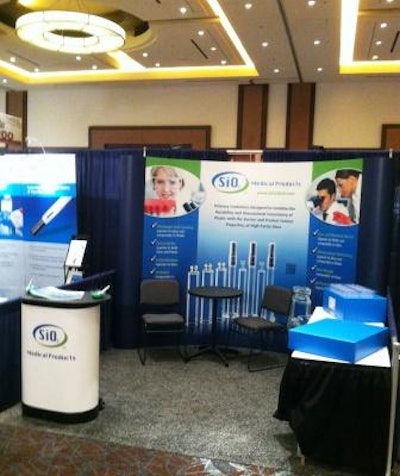 It's rare to run into something truly new and exciting in packaging, but once in a while you are shown the light. Only moments after Bayer's Dr. Joerg Zuercher presented an end users wish list, including a container as "pure" as glass, but able to survive a fall, Dr. Shawn Kinney from SiO2 Medical Products revealed the company's latest development, glass-coated prefilled syringes.
"It's a lot like Reese's Peanut Butter Cups," Kinney told the PDA Europe audience, "by combining two great materials, you get something even better."
Kinney called the development a real innovation in parenteral packaging. The syringes receive a very thin silicon oxide-based glass "coating system" applied to the primary plastic container by plasma-enhanced chemical vapor deposition. (PECVD).
Kinney says the treatment is well adhered mechanically, thermally and chemically stable, offering improved properties over both glass and plastic.
Plastic, of course, resists breakage, provides excellent dimension tolerance, and has the ability to be molded into unique shapes. Glass offers better barriers to gasses and an inert surface.
The coating "system" actually consists of four layers—an adhesion layer, barrier coating (the most critical layer blocking any leachables from labels, etc.,) protective coating, and a lubricity coating for syringes or cartridges with movable plungers.
The thin glass-like coating is actually flexible, yet thick enough to provide glass's excellent barrier properties.
The coating consists of pure silane monomers and includes no boron, calcium, aluminum, or sodium (like typical pharmaceutical glass), all of which can lead to delamination.
The plasma-coated syringes have been tested and found to offer benefits such as:
• Breaking and cracking—comparable to plastic, superior to glass
• Delamination cannot occur (delamination is when a glass container "sloughs" off the inner walls of the container releasing boron, sodium, aluminum, etc., affecting the drug formulation, a cause for many recalls)
• Extractables—superior to both glass and plastic
• Gas/moisture barrier—comparable to glass, superior to plastic
• Dimensional tolerances—comparable to plastic, superior to glass
• pH stability
Kinney was asked about the economic considerations of the plasma-coated syringes, and said while there is a percentage increase it is not twice the cost of glass or plastic.
The syringes are in pilot testing right now, samples are available, and SiO2 Medical will have a commercial facility up and running buy the end of the year.
"The process is easily scalable," said Kinney, because you don't have to load the syringes into a larger chamber for production. The syringe itself is the chamber."

Companies in this article