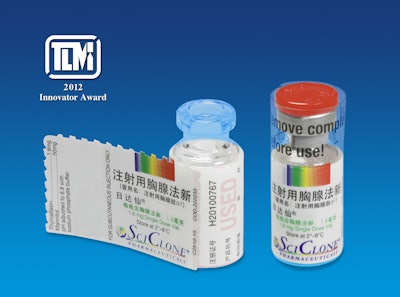 Schreiner MediPharm, a Germany-based global provider of specialty pharmaceutical labeling products, earned the "Innovator Award" from the Tag and Label Manufacturers Institute for the company's Pharma-Comb Void label, which increases product safety by preventing the reuse of authentic packaging components by counterfeiters. The label also took first place in the TLMI Awards' Flat Screen Printing category.
The labels were developed with and for SciClone Pharmaceuticals, Inc. a Foster City, CA-based, China-focused specialty pharmaceutical company, for its product ZADAXIN® (thymalfasin), an immunostimulatory agent for the treatment of cancer and hepatitis, and as a vaccine adjuvant.
On its Web site, SciClone's CEO and Ph.D. Friedhelm Blobel, says, "Drug counterfeiting is a serious challenge facing the pharmaceutical industry, public health and regulatory authorities worldwide, threatening patient safety, compromising the supply and effectiveness of medical interventions and harming the commercial viability of important drug therapies. SciClone is committed to ensuring patient safety and security for all of our marketed products. We intend to continue implementation of an aggressive anti-counterfeiting strategy for ZADAXIN, and to work in partnership with agencies and health authorities to combat the crime of trafficking in illegal medicines."
Each year, TLMI invites manufacturers to enter an international competition recognizing the best products in the label industry. Innovation, printing, and finishing quality are high on the list of deciding factors for judges.
The Innovator Award recognized the Pharma-Comb Void label's concept for product security. To counteract the practice of refilling previously used medicine vials, the multi-part product label includes integrated security features. The label is functionally destroyed during its initial use. When the label's tear strip, which also runs around the closure cap, is removed, the inscriptions "Opened" and "Used" appear in the film's two indicator fields. This makes the undetected reuse of a glass container with an original label virtually impossible.
For healthcare personnel, the label offers a benefit in that when the label is opened, a detachable part is released that serves to mark the syringe accordingly.
Companies in this article