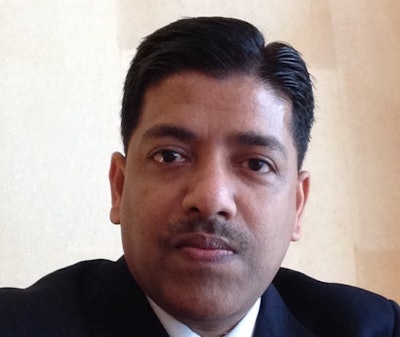 Dr. Jagdish Chaturvedi is an ear, nose and throat surgeon and inventor of the Ear Nose Throat Multiscope Recorder [EMR], which was awarded the DST—Lockheed Martin India Innovation Gold Medal Growth Programme Award. His book, "Inventing medical devices: A perspective from India," describes his efforts in developing medical devices specifically for India.
In the following Q&A, Dr. Chaturvedi discusses packaging-related issues pertaining to the EMR, which is now used commercially, although specific details are considered proprietary.
Healthcare Packaging: What were some of the packaging challenges involved in the development of the EMR?
While developing the EMR device (also now known as ENTraview), the packaging changed multiple times with design revisions and improvements. The first working version included a standard bag the size of a briefcase padded internally with foam with custom cutouts to place different components such as scopes, device, charger, charging wires and user manual. The bag served as a consolidated kit designed for robust use in a hospital setting that could be easily carried by the doctor on call for emergencies.
What was the motivation behind your book?
Medical devices need to be designed, engineered, and priced to suit India's healthcare ecosystem and a doctor's involvement in the development of new medical devices. The book contains real-life case studies and information on how doctors can engage with engineers, along with guidelines regarding commercial terms and financial numbers that involve doctors, start-ups, investors, institutions, distributors, OP owners, and the licensing of the technology.
What are the challenges in designing medical devices for emerging markets?
I see three key issues:
• Working in cross-disciplinary teams. In most emerging markets, due to an immature and growing medtech ecosystem, there are few platforms where doctors, engineers, product designers, and business professionals get a chance to interact with each other.
• Transferring technologies from institutes to industry. In an emerging market such as India, much innovation happens in premier science and engineering institutes. However, these technologies struggle to reach the industry.
• Designing a technology that fits the need. Most inventions today represent the "needs" of the inventor rather than the "need" that exists in the healthcare system. This leads to development of technologies that may not have a real need in a clinical setting.
How can healthcare packaging needs be addressed cost-effectively?
Healthcare packaging is just as important as a novel medical technology and it needs to be designed and conceptualized simultaneously along with the development of a medical technology. An important element here is to have a clear understanding of the stakeholders, the current process of adoption of new devices, and to understand the usage of the device and the disposal of the packaging fits into the present ecosystem. Often this understanding will lead to a redesign of the packaging and invariably bring about cost-effective changes to the packaging. The specific indicator for cost reduction in packaging will be determined by the user and the clinical setting in which the product is used.
Do you think packaging needs for emerging markets differ from that of developed markets?
Yes, certainly. Emerging markets may involve different types of users who use the same products but in different types of healthcare settings, necessitating different packaging criteria. For instance, a screening device such as a slit lamp, may be used by a doctor in an outpatient setting to screen for eye disease. That same device may also be used by a health worker or an optometrist in the field outside the hospital setting. The packaging will need to take into account these different user and environmental scenarios while also incorporating robustness to accommodate multiple transportation situations. Such a requirement may not exist in developed markets where products are designed and packaged for use in world-class/optimal settings.
What are your insights on healthcare packaging specifically for India?
There is a rising demand for disposable medical devices in India. With hospitals adhering to newer guidelines set by NABH (National Accredited Board of Hospitals) and JCI (Joint Commission International), the demand for better quality disposables with sterile packaging requirements has increased. Packaging for these devices is more critical as norms for waste disposal and prevention of reuse is more important. The packaging needs to incorporate design and material requirements that make it feasible to use and dispose in all these different settings. The packaging of these devices must be compatible with removal while wearing gloves and allow easy opening and disposal.
It is challenging to design packaging for reusability, especially when the reusable device requires disinfection or sterilization. Therefore, placing a sterilized device in unsterilized packaging creates usage issues. Reusable devices require robust packaging and may be carried to remote locations for camps and screenings. Sometimes the packaging of such devices may be more challenging than the development of the device itself.