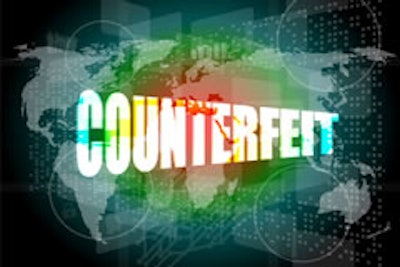 Imagine you are a manufacturer of a well-known global product or pharmaceutical brand. You have spent millions, perhaps billions, building your products, reputation, advertising, distribution, staff, storefronts, customer base, and shareholder confidence.
Over the years, more and more of your resources go to fighting cheap and dangerous "knockoffs"—counterfeits of your products, 90% of which originate from China. These counterfeits make up 10% of global trade and are common on e-Commerce websites including eBay, Amazon, and China's Alibaba Group.
Counterfeit products are exchanged for your authentic products in retail stores, or returned to you for warranty claims that you can't honor. Sales are dropping and consumers are losing confidence in your product, some may even be injured or killed. Government regulation and consequence is notably absent, and the burden and financial loss falls directly to you, while the sales continue and e-commerce websites profits roll in.
Consumers lose billions to counterfeit products each year, a global $1 trillion criminal enterprise. Vocal manufacturers complain not enough is being done to stop the avalanche of counterfeit goods flooding the market.
"There's consumer demand, and it's gotten easier and easier to copy (products) and to sell them over the Internet," says Therese Randazzo, Intellectual Property Rights Director at U.S. Customs and Border Protection.
Now, China's Alibaba Group is preparing a massive $20 billion U.S. Initial Public Stock Offering (IPO) to enhance its global operations. Relatively unknown to consumers in the U.S., Alibaba Group and its subsidiary websites are well-known to manufacturers and the U.S. government for the proliferation of counterfeit goods.
One Alibaba subsidiary, Taobao.com, removed 115 million infringing and counterfeit product listings in just nine months in 2013. It is unknown how many products were simply relisted and sold. The manufacturers and companies that sell the authentic and well-known branded products are the obvious and direct victims of counterfeiting, and these counterfeit products pose a real threat to the livelihoods and lives of workers.
Alibaba was removed from the U.S. government's 2013 "Notorious Markets" list, which identifies select online and physical marketplaces that reportedly engage in and facilitate substantial piracy and counterfeiting. Yet, the U.S. Trade Representative named China to a watch list in April for not doing enough to fight counterfeiting and intellectual property crimes.
To further exacerbate the problem, Alibaba's Variable Interest Entity (VIE) structure is putting investors at risk says the U.S.-China Economic and Security Review Commission. "The legal contracts that serve as the basis of the structure are enforceable only in China. Risks could mount for unsuspecting U.S. investors who buy into precarious VIE structures."
With over 90% of consumers looking to e-commerce websites for good deals on nationally branded products, e-commerce websites will reap billions in revenue from unsuspecting consumers who place their confidence in these websites. Consumers often unknowingly purchase hazardous or deadly products that are deceptive in appearance while e-commerce sites rake in transaction fees.
The Counterfeit Report® encourages a much closer evaluation of Alibaba by the SEC before the Alibaba IPO moves forward, and a self-initiated investigation of the major e-commerce websites by The Office of The U.S. Trade representative as authorized by 19 U.S.C §1337. After all, it's ultimately our manufacturers, consumers, and investors that get hurt.
The Counterfeit Report® website provides consumers a free and informative visual guide to detecting counterfeit products and promote consumer awareness. Manufacturers can immediately list and update their counterfeit product information in a central venue for the greatest mass-consumer exposure, and benefit from enhanced brand protection and direct consumer education. The Counterfeit Report uses thousands of authentic and counterfeit product photos to show consumers the sophistication of counterfeiters and their ability to create visually identical counterfeit products and packaging specifically designed to deceive. Consumers can also easily report seeing or purchasing counterfeit products and the source to the manufacturer on the website.