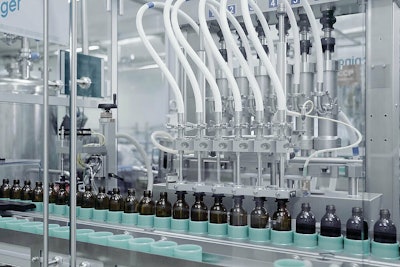 NOTE: Pharmaceutical packaging wasn't the only area of interest at PACK EXPO. Click the links that follow to read more about innovations in: Machinery | Food Processing & Packaging | Sustainable Packaging | Robotics | Controls
At PACK EXPO International, groninger displayed its new flexcare 100 filling and closing system (1), which accommodates varied applications including eye drops at speeds of approximately 70 to 120 parts/min. The system offers a high level of flexibility and availability thanks to the quick and tool-free change of format parts. It is suited to processing a variety of products, including OTC pharmaceuticals, diagnostics, and dietary supplements in sprays, drops, syrups, and more. With a modular focus, a variety of functions can be added such as multi-stage gassing, filling, and weight monitoring. Even different types of closures can be easily accommodated. To reduce pausing on the line, revolving filling needles move with the items during filling, leaving more time for the actual filling process. This allows for larger filling volumes, even with higher relative outputs. groninger notes that the needle also follows the filling level in the containers during the filling process, which prevents foaming and dripping and further increases the safety of the process. The system offers precise filling for volumes from 10 to 270 mL.

The machine's flexibility delivers benefits for those processing multiple closures on a single line. The system offers three different closing stations for different closure types: droppers or stoppers that are set; screw and sealing caps or spray pumps with dip tubes that are closed and screwed on with servomotors; and overcaps.
Products are transported in a smooth and stable manner through the system with walking beams. This allows users to fully implement automatic weight monitoring without issues. Generally, two load cells are installed. Due to the intermittent walking beams' transport, the tare weight and then the gross weight of each bottle can be determined before filling. If net weight is determined to be out of spec, the item is sorted out and rejected. The line is designed so that all parts are easily accessible for cleaning. The system works with stainless steel volumetric rotary piston pumps for manual cleaning or with CIP/SIP-capable ceramic pumps. A mass flow meter can be used for both small and large filling volumes. Another option is peristaltic pumps, which can also be used with disposable tubing systems.

Watch a video of the machine in action.
Robotics to the rescue
Much innovation in pharmaceutical processing and packaging can be attributed to contamination reduction strategies that require innovation in robotics. At PACK EXPO International, Steriline showcased its new Robotic 3D Control and Picking Solution (3D CPS) that includes both robotics and vision systems (2). The system was developed in partnership with ISS – Innovative Security Solutions, a spin-off company from acclaimed technical university Politecnico di Milano in Europe.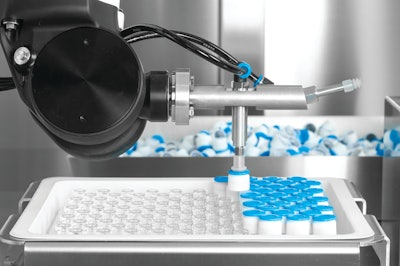 The Robotics 3D Control and Picking Solution is particularly suitable for capping and stoppering in the primary packaging of small batches that require an aseptic environment, such as in personalized medicine and the production of cell and gene therapies.
As Federico Fumagalli, chief commercial officer at Steriline, explains, the company continues to innovate with robotics in its aseptic filling machines, and they develop their robotic software in-house to offer intelligent motion and activities that are often performed by people. He says that in many cases, a robotic arm will move from A to B and B to A, but this application shows how robotics can be programmed by a 3D camera that scans—in this case the ARaymondLife cap—finds a good trajectory to move in, picks up the stopper, and places it on the vial.
"The Robotic 3D Control and Picking Solution is a mechatronic component equipped with a vision system that can detect tools within a defined area and adapt its function based on the relative feedback," reports Steriline. "It is composed of a robotic arm, a picker, an infrared ray (IR) stereoscopic vision system, and software for planning trajectories, accessing the recipe database and interpreting the input data coming from the sensors."
• The robotic arm moves the picker throughout the working area, the dimensions of which can be modified based on the length of the levers.
• Sophisticated algorithms generate trajectories to allow the picker, located at the end of the arm, to reach the item, pick it up, and then move it to its final destination.
• These paths are generated based on the information received by the 3D vision system, which uses a stereoscopic vision-based measuring technique: an IR source emits an IR light pattern that is visible to visual sensors and not to the human eye. The scattering of the light is detected, acquiring a profile of the scene. This technology allows the system to autonomously generate reliable trajectories for simpler and more linear movements and avoid any collisions with the surrounding environment.
"In the pharmaceutical industry, limiting the release of particles during sensitive processes makes the difference because it reduces the risk of contamination," says Fumagalli, whose vision it was to use the robotics to avoid contamination in primary packaging. "With this in mind, we looked for different solutions on how to remove the main parts that increased the dispersion of particles during, in this case, the stoppering and capping processes. So we chose to replace the hopper, the vibrating cup, and the linear slide with robots combined with a vision system."
The partners also sought to simplify format changes. "Flexibility is definitely an added value of robotic solutions" adds Alessandro Caprioli, Partner at ISS – Innovative Security Solutions. "In fact, with standard solutions, the production process and the relative mechanical parts need to be reconfigured in order to manage or handle a different container. With a robotic application, you generally only need to set up a different recipe via the software."
All about the cold chain
As temperature during freight travel continues to be a significant issue, especially for companies operating out of multiple locations within the pharmaceutical and medical device industry, Storopack's Renature Thermo packaging (3) is designed to be a sustainable solution that meets cold chain standards.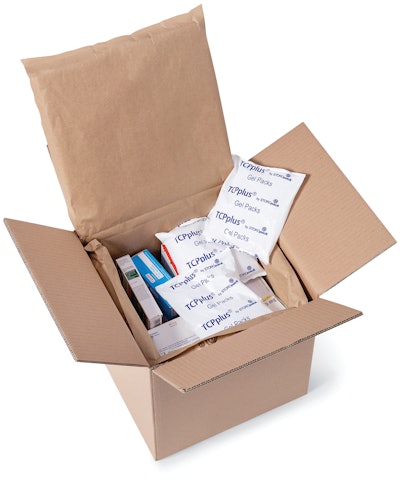 Renature Thermo packaging comes in poly-wrap and paper-wrap substrates, both of which are fully recyclable. The starch inside the wrap is certified BPI-compostable and the entire kit has gone through Western Michigan University's recyclability study for further certification.
"We do not laminate the poly or the paper with starch because we want the customer at home to be able to open up that pouch, remove the starch, place it in their compost pile, and return that starch back to nature, then recycle that poly or that paper material," says Tony Iadevito, national sales manager at Storopack. He further explained that Storopack can reuse the wraps recycled back to the company within the production of its other product lines.
Storopack customizes the Renature Thermo packaging to meet the size requirements of its customers, along with offering the standard cube-sized kit. This customization helps Storopack's customers reduce the amount of substrates otherwise used to fill a space that is too big for their products.
"We're also going to be introducing, at the start of this next year, custom print capabilities. Because we convert our own poly and paper materials, we're not stuck to large minimum orders buying master roles from the manufacturers," said Iadevito. This provides the flexibility to custom design holiday messaging and other print on the packages as Storopack can mandate on a truckload to truckload basis to provide that custom print before the customer returns to its regular messaging.
Storopack started producing its Renature Thermo product line from its North Carolina production facility at the start of this year, which will soon be joined by a launch at its California facility. Storopack plans to open up two new facilities within the next four years as well with the ultimate goal to have between eight and ten production facilities solely tied to the production of its Renature Thermo product line, according to Iadevito.
Elsewhere in the cold chain scene, Lifoam Industries, LLC, a division of LifeMade Products LLC, a Jadex Inc. company, has debuted its XP-4 Pallet Shipper (4), a pallet-in-pallet cold chain shipper for thermal protection during passive transport of pharmaceutical products.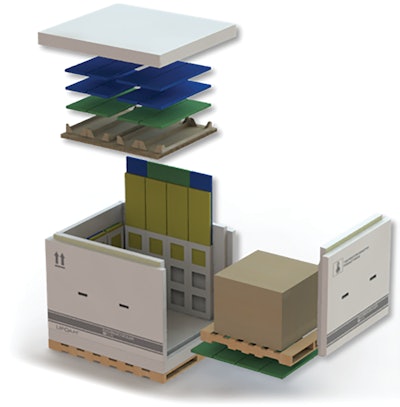 As Alex Arabea, Senior Brand Manager, explains, "The XP-4 acts as an exterior shell working with phase change materials (PCMs), water-based gels, and our ePUR technology which insulates ~30% better pound-for-pound than traditional polyurethane." Two XP-4s can fit on a standard airline cookie sheet, and the system is designed for reusability. "You can break it down and fold it flat to ship back empty at a fraction of its assembled height, and then build it right back up at your facility to use again," he says.
The walls of the XP-4 are designed for ease of assembly and disassembly while offering robust protection for temperature-sensitive payload. "For shipping duration, we're able to achieve 120 hours tested to ISTA 7D between 2 to 8°C , but there is the opportunity to expand based on changing out the phase change materials," he says.
Outer dimensions of the XP-4 are 67.75" x 59.75" x 62.25," while payload space is 48" x 40" x 34" (assuming a 5" pallet).
Arabea notes they've received positive response on the design from cold chain experts, particularly due to the company's robust testing and data. "The XP-4 is based off a previous iteration, and we've redesigned this model to be lighter, use fewer PCMs, and assemble more easily." As he puts it, you're not always going to have Arnold Schwarzenegger assembling pallet shippers at your warehouse or distribution facility, so ease of use is important to be accessible to a wide range of personnel.
Lifoam Industries has also launched its recyclable Propak gel bags this year. They've taken their widely established standard Propak gels and placed them in a recyclable film. Applications for the gel bags range from consumer food deliveries to pharmaceutical shipping—anywhere water-based gels are being used.
"We've seen the trend towards sustainability and know that these are going to a lot of home users who want to dispose of gel packs responsibly after their deliveries," Alex Arabea, senior brand manager, says. "My typical example is you get a meal kit once and say, 'Cool. A free gel pack for my kid's lunch.' Then you get a second one. 'Oh nice, another one.' You get a third, and ask, 'What do I do with this?' And you're wondering how to responsibly dispose of it."
Unlike some gels that cause clogs when poured down drains, the user is able pour the liquid from recyclable Propak gel bags down their home drain without clogs. "It's perfectly safe to put this gel down the drain. We have worked with water and wastewater treatment organizations and conducted testing to confirm that it won't harm anything down the line," he explains.
The bag has disposal instructions in clear print on the back, using the How2Recycle symbol that consumers are familiar with. Empty Propak gel film is recycled via store drop-off, as curbside recyclable films for this application are not readily available. "Consumers see that How2Recycle symbol on everything from water bottles to food packaging and more, so it helps with that consumer education piece. They'll know how to properly dispose of these products and take advantage of the sustainability that we built in, without them having to do extra research on their own," Arabea notes.
Branding has also been updated on the bags. "Our gel bags look a little bit different than they have in the past—this is a move towards sustainability. We've done all the testing to say that there's no requalification necessarily, there's no negative impact. Just a sustainable wrapper around the same gel," he says.
Hybrid printing and monomaterials
Hybrid printing systems, where flexo and digital are combined in a single system, have been around for a while now. But like anything else in the packaging arena they can always be optimized. A good example is the H382 Hybrid (5) that was on display at Hapa's PACK EXPO International booth . This system is part of the evo+ family of printing systems, a greatly optimized approach to printing the lidding material on blister packs or other lidding materials in the pharmaceutical manufacturing space.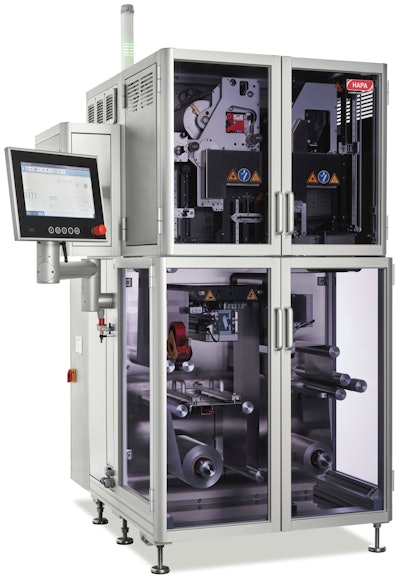 "The advantage of hybrid, of course, is that you can do short runs relying on digital and longer runs relying on flexo," says Steve DiAngelis, strategic business unit manager at Hapa, a Coesia company. "Or you can do variable data like expiration date or serialization information by way of digital and nonvariable information by way of flexo. But what we've been hearing from customers is that hiring operator talent to run hybrid systems—or any packaging systems for that matter—has never been more challenging. So we've tried to make this machine more connectable and adaptable and easier to use than ever."
For example, OPC UA is standard for easy integration into higher-level production systems. So if lot and expiration data need to be downloaded from a centralized ERP, it's easy for a machine operator to do it.
"We've also embedded a vision system in the machine," says DiAngelis. "It's actually embedded in the printer, so the data flow is from a single point rather than the more conventional approach where the vision system is external to the printer. You're validating one machine instead of validating a printer and a vision system."
Last but not least, notes DiAngelis, ease of maintenance and serviceability have been vastly improved.
Offering a new monomaterial sachet that provides barrier properties, Constantia Flexibles' Perpetua ALTA (6) is based on polypropylene (PP), is recyclable, and has a high chemical resistance to pharmaceutical products. It is suited to packaging demanding products in both the pharmaceutical and food industries. Compared to conventional laminates, it is lighter, has higher efficiency, and offers optimal protection against oxygen, water vapor, and light.
Applications for the sachet include powders, dissolvable products, and liquids. As Constantia's Mary Jo Keegan explains, the system can be designed to be child-resistant. Runnability has been favorable on customers' machines. This can be a critical attribute as brand owners look to accommodate more sustainable packaging without the purchase of new machines. Both the Perpetua and the Perpetua Alta lines can accommodate flexo and rotogravure printing, and depending on the application, they can also accommodate laser-scored opening features. To prevent children from accessing medicines, all Constantia Flexibles product lines are available in various child-resistant designs.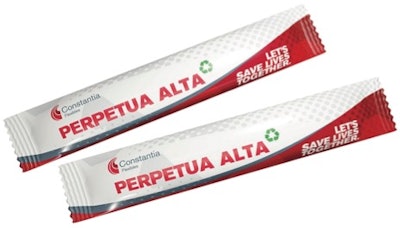 Recyclability and machinability
Schreiner MediPharm debuted its sustainability-minded versions of two popular products. There are, of course, a number of ways to define sustainability in life science packaging. The new offerings were designed with three key sustainability considerations: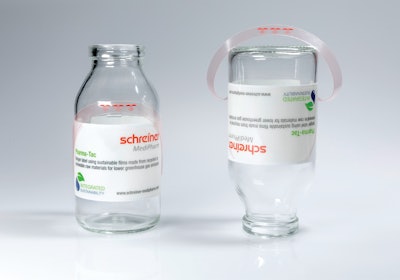 • Recycled/renewable materials
• Sorted recycling/disassembling
• CO2 emissions reduction
"The new label concepts are based on existing items in Schreiner MediPharm's roster of functional labeling solutions," says the company, using film materials that are either recycled or produced from renewable raw materials. On show were:
(1) A more sustainable version of its Pharma-Tac label (7) for infusion bottles with integrated hanger and removable documentation parts. The concept label is produced from recycled materials (PE and PET), according to Christian Liebl, Senior Innovations and Process Manager for Schreiner MediPharm.
(2) An eco-friendlier version (8) of their Autoinjector-Label–featuring its popular anti-slip functionality. Liebl explains, "The Autoinjector label is made out of a Schreiner MediPharm proprietary renewable PP, while the paper liner is made from FSC glassine paper. Those two concepts show that functional labels can be easily produced with recycled or renewable materials. We welcome any customer opportunity to produce unique test labels."
Sorting and disassembly have gained much focus recently when talking about the practicality of recycling vs. theoretical. While some medical packaging may not be able to result in reuse or recycling, more sustainable material choices can bake some sustainability in before the package's end-of-life. "Sorted recycling is possible, if the label material and 'body material' (of a medical device) are identical," says Liebll. "So, for instance, if the autoinjector shell is made out of PP and we place a PP-based label on top, recycling is easy," says Liebl. "The Pharma-Tac label consists of different polymer types to achieve the desired functionality, which makes recycling theoretically possible but in reality, rather difficult. As this delivery system is primarily designed for hospital-administered drugs and could come into contact with blood-borne pathogens, the whole container is considered biohazardous waste."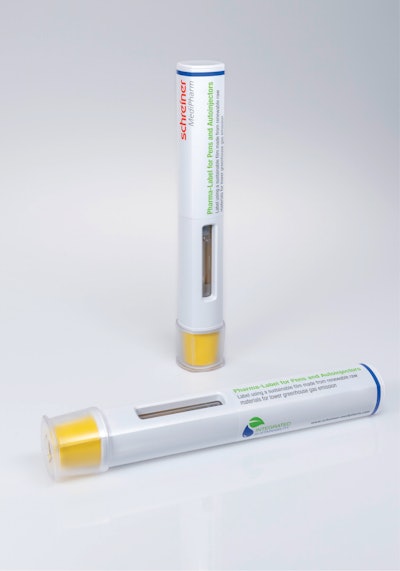 Liebl goes on to add that as long as there are suitable materials available, Schreiner will work with customers to optimize their labeling solutions for easy recycling and disassembling. This could be done on a project basis to match individual customer requirements.

"The disassembling consideration is independent from the chosen material type," he says. "It is more a question of the design, to make disassembly feasible at all. After removing the label, for instance, the autoinjector half shells can be reused for new products. If you can feed the removed label to a controlled recycling process, overall sustainability increases further."
Of course, sustainability is more than just using recycled and/or renewable materials. Liebl notes, "Schreiner MediPharm fosters sustainable actions and considers ecological factors in the development and production of our products. Accordingly, we expect sustainable actions and ethical behavior from our business partners as well."
Schreiner's in-house R&D team conducted extensive tests to show that the updated materials perform as well and as reliably as their conventional counterparts. "For example, the Pharma-Tac label was subjected to load and gravitational trials, and both the hanger label and Autoinjector-Label underwent testing for adhesion, ink adhesion, print durability, and laser marking viability. All tests were passed flawlessly," says Liebl.
He says a key feature of their renewable and recycled constructions is that they should run on any existing equipment that can process the conventional label version. Liebl recommends confirming suitability during a validation run and notes that Schreiner is happy to join the trial with on-site technical personnel if desired.
The company reports that a Product Carbon Footprint (PFC) was calculated for each of the new sustainable label concepts. This calculation considers the CO2 emissions of a product from raw materials through manufacturing to delivery–referred to as "cradle-to-gate" analysis – as well as end-of-life scenarios, or so-called "cradle-to-grave" impact. Using the materials that have been qualified, Schreiner MediPharm is able to design and develop customized labeling systems that can help companies adapt to more sustainable supply chains.
"The healthcare industry faces steeper challenges to sustainability than the vast majority of other sectors, since the safety of patients and efficacy of drugs must take priority on a more mission-critical scale," says Gene Dul, President of Schreiner MediPharm US. "The sustainability-minded labels [we're] showing at PACK EXPO exemplify our commitment to reducing the environmental impact without sacrificing patient-centricity in the slightest. It's an important step toward a more circular healthcare economy."
Handling and labeling combined
Herma and Norwalt debuted a combined system (9) that labels at 30 products/min and accommodates containers from 12 to 30 mm in diameter. The HERMA 252 M features HERMA's H500 Label Applicator—which Norwalt utilizes on its high-speed assembly lines—and Norwalt's product handling systems, which support a broad range of HERMA's labeling systems for the pharmaceutical sector.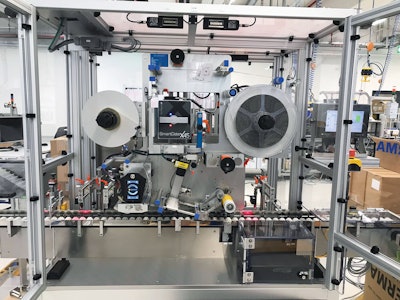 Offering a look into commercial applications, the system on show was similar in design to a line recently supplied to a major U.S.-based pharmaceutical contract manufacturer. In the system on show, "glass tubes are picked from trays using a robotic arm, and placed onto the labeling system's infeed. Products are then transported to the labeling station, where a wraparound label is applied to each tube," per a release from Herma. "Labels are printed with a barcode and lot/expiry information, and a vision system inspects the print, rejecting any label deemed out of specification. Finally, products are checked for label alignment and, in the full production version of the system, rejects are segregated from good products, which are then re-trayed."
Cartoning and case packing
For pharmaceutical, nutraceutical, cosmetics, and personal care applications, MG America , the U.S. subsidiary of MG2 of Italy, showcased its new Cariba C221 intermittent motion cartoner (10) to the North American market at PACK EXPO International.
The unit features picking-arm enabled positive carton forming and is available either with a manual feeding station or a variety of automatic product feeders. As MG America's Michele Leonardi, director of sales - packaging division, explains, this system was designed with pharmaceuticals in mind, with smooth motion, low vibration, and a balcony-style design that ensures easy cleaning and maintenance, as well as separation between electrical and mechanical sections. Its lowered carton magazine, full servo assisted motions, controlled adjustable transportation, and coated guides combine to eliminate marking on components.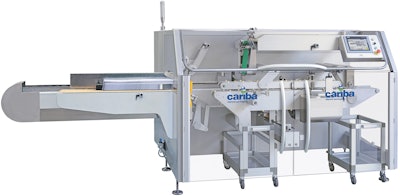 "The Cariba C221 features a feeding system based on a twist-and-push motion that transfers bottles. The main advantage of this type of feeding system is that changeover is very fast and simple based on replacing the twist when the bottle diameter changes," says Leonardi. In a manual or automatic feeding configuration, the Cariba C221 is compatible with a broad range of common primary packaging formats, including blister packs, round/shaped glass and plastic bottles, jars, soft tubes, flow packs, sachets, and stick packs.
The genesis for the machine was market demand for an intermittent-motion cartoner that covers between 80/85 to 110 cartons/min. Companies seeking speeds faster than that tend to move into continuous-motion cartoners that are more costly and require a larger footprint. "The Cariba C221 is not just for midsize companies. Large pharmaceutical companies also need these speeds for certain products—for example eye drops or prescription nasal sprays that aren't high volume—and they may have a dedicated line at around the 120 cartons/min mark," he explains. "The carton transportation features lower and upper belts, and the machine is very quiet with minimal vibrations while achieving those speeds."
The company reports that tuck-in and hot-melt closures are available, with a combination of the two providing tamper evidence. Printing options include emboss, inkjet and laser coding, and the unit comes equipped with integrated barcode-reading capabilities.
The Cariba C221 can be customized with a variety of additional features, including extended carton magazines, pre-folded leaflets and booklet dispensers, leaflet folding units (GUK), serialization-ready external modules, and remote connectivity.
At PACK EXPO, Körber Business Area Pharma unveiled its K.Pak 665 topload case packer (11), which provides secure handling of cartons or products with smooth and accurate packaging.
Known for its life science inspection, transport systems, packaging machines, and more, the K.Pak 665 represents the company's first machine in their end of-line portfolio. The system enables those with (or seeking) primary packaging machines from Körber to add end-of-line capabilities in a one-stop-shop. Product Manager Matt Smith says, "This also helps with downstream processes like service, training—customers now have the ability to have a full Körber line from inspection, handling, topload or sideload cartoning, blister packaging, and now into the end of line. This way, many of the interfaces, the components, the methodology, and the design are similar throughout the entire line."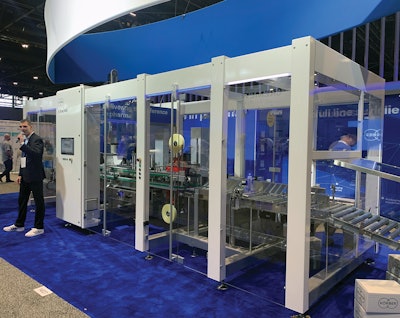 Reaching speeds of 12 cases/min, the system is designed to run cartons sized from Körber's cartoning machines, but target speeds depend on applications that also include bottles. "There's a range of steps that require downsizing that speed requirement, handling potentially more cartons per minute but fewer cases per minute," Smith notes. The system handles cases from 8"L x 6"W x 4"H to 24"L x 16"W x 16"H.
K.Pak 665 is designed specifically for the pharmaceutical and medical device industries, where gentle handling is often a key capability. This includes COVID-19 vaccine vials. "The main focus is clean design, smooth and controlled motion of the products, and simple design interfaces to really help connect the operator to the process," says Smith. "Standing next to it, watching it, and listening to it are evidence that we were successful in that goal. It's an extremely quiet and smooth machine, and it's specifically designed to gently handle products because of the industry we're in. The balcony-style design provides great visibility for line clearance and access to machine components." The system's gantry-style design is focused on ease of maintenance and clean surfaces.
In terms of controls, Smith adds, "With our full line solution, our focus is on providing a control system that is similar to our cartoning or inspection machines, which use B&R control systems." Marketing in North America, Allen Bradley/Rockwell Automation controls are also available.
Simple integration between Körber handling, packaging, inspection, and software solutions means pharma and biotech brand owners can create packaging lines suited to their unique needs. Quality control is ensured through optimized integration with line management and serialization systems, which are often necessary for regulatory requirements under DSCSA. "Our design for serialization handling was also well-received by customers who visited our booth at PACK EXPO. We worked with Optel and our internal serialization experts to define common challenges in case packing applications and developed a few features to address those problem areas," says Smith. "Our machine prevents cartons that fail the incoming verification process from being grouped into a layer and protects the integrity of the in-process cases. This helps to ensure aggregation is correct for every completed case. We're excited to show customers how those features can be a benefit in their process."
New from Stevanato Group
Medical device manufacturers are always under pressure to increase system uptime and reduce rejects, and this has become easier with the digitization of assembly lines. "As well as improving product quality through better monitoring, the data generated by digitized workflows can be employed to optimize overall equipment effectiveness (OEE), schedule predictive maintenance, and drive continuous process improvement using machine learning," reports Stevanato Group.
New in 2022, the company launched a data collection tool (12) for assembly environments, ColleQX, to reap the benefits of these digitized production lines. The company is no stranger to optimized assembly, with their own range of modular equipment for producing med devices.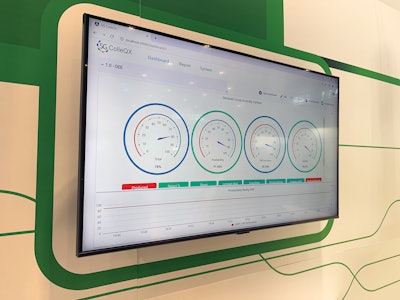 "The ColleQX is intuitive to understand, showing operators how the line is performing, the overall equipment effectiveness, downtime, and the quality—such as how many rejects you have," says Alessandro Zannini. "It will give you the main reasons for low quality, so you can address problems more easily."
The platform is designed to integrate with equipment from any major supplier,and with software interfaces provided by third-party providers across the market. In this way it creates a unified interface for end users in the pharma industry, simplifying IT systems and therefore reducing ongoing maintenance requirements.
As the medical device contract manufacturing market looks poised to double to $130 billion over the next six years—and many device manufacturers automate or upgrade their production lines in-house—this is certainly an area where improved analytics will come in handy. "Being based on the capture of item-level, batch-traceable, high-integrity data at a sampling rate of each PLC scan, the platform addresses many of the key challenges in establishing a framework and process for the collection of such data," the company says. "The enhanced quality of this data input results in superior insight, which can then be used to inform diagnostic activity and performance improvements."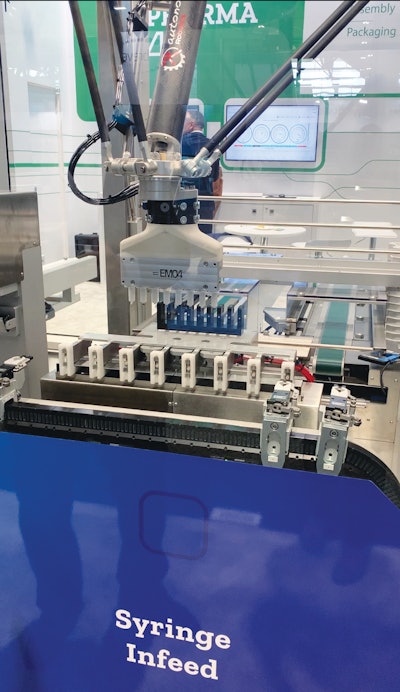 Also highlighted at PACK EXPO International was Stevanato Group's new high-speed auto-injector assembly line (13), which will be available on the market in 2023. The company offered a look at this off-the-shelf equipment that can run at speeds to 100 ppm and can be adapted to handle different devices—even coming from different device developers—on the same line for maximum flexibility.
As Zannini notes, "This is unique. Normally, the machine is dedicated to one device, so you can really optimize your investment with this system because you can change the device. It's also scalable for the future, because you can increase the speed without having to change the machine."
Stevanato Group notes that whether dealing with pen injectors, auto-injectors or wearables, every drug delivery device will have specific requirements when it comes to assembly, which makes flexibility a priority in production environments.
Additionally, some therapies experience a sudden boom in demand (case-in-point: unprecedented demand for Novo Nordisk's Ozempic and subsequent supply chain shortage), and companies must remain agile to meet patient needs.
To meet market challenges, the company uses modular design, combining a smooth transport system and individual process modules to create a tailored assembly platform for their customers, with all processes managed via a single, user-friendly control panel. A company can accommodate a new device by changing carriers, feeding systems, picking heads, and more.
The system employs Stevanato Group's standard linear transport system (vertical or horizontal mounting), while extensive inline controls facilitate accurate checking of device integrity and functionality. "This new addition to our portfolio is reflective of a continued focus on innovation, ensuring our equipment portfolio meets changing customer requirements," says the company.
With pre-filled syringes (PFS) booming in popularity, the machine can be equipped with PFS inspection: flange integrity, RNS/SNS angle and position in relation to flange, plunger position, debris on plunger, and color on PFS labels. The system also features inline roll-on labeling options and inline inspection.
It is also a highly scalable approach, allowing technology transfer and with capacity extended through the addition of further modules. Together, these qualities allow for enhanced production efficiency, cost savings, and reduced time-to-market.
Pouch handling
SencorpWhite's Accu-Pick 1016 is a compact bench-top pouch picker/opener (14) that increases operator efficiency and throughput in manual product load and heat seal applications. The Accu-Pick picks one premade pouch at a time from a magazine, opens the pouch and presents it to the operator.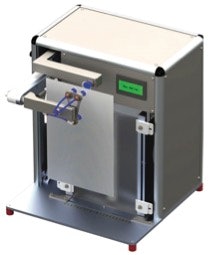 Gloved operators often struggle to separate one pouch from a stack and open the pouch to load the product. The Accu-Pick eliminates the manual pouch manipulation increasing the operator's speed and production throughput.
Benefits of the Accu-Pick include:
• Operators increase their product fill rates as their efficiency is significantly improved by eliminating the challenge of manually singulating and opening pouches on a repetitive basis.
• The Accu-Pick can be operated in one of two modes selectable through the HMI. The first mode features on-demand cycling triggered by an electronic foot-switch. The second mode features automatic cycling with the timing adjustable through the HMI (up to 20 cycles per minute).
• Adjustable to accommodate pouches between 3" and 10" wide and between 6" and 16" long with no change-parts required when changing from one pouch size to another (changeover can be completed with a single Alen wrench in less than 5 minutes). The Accu-Pick can process most types of flat pouches/bags including film, foil, coated paper pouches.
• Designed and manufactured with materials for clean room compliance.
Watch video of the machine in action.
Advances in materials
TekniPlex Healthcare showcased its new fully transparent recyclable mid-barrier blister package (15) (reported to be the world's first as a blister + lidding combination) at PACK EXPO 2022. The material is recyclable in geographies where the #5 polypropylene recycling stream is available and features a polyolefin blister film paired with a barrier PP lidding film.
Melissa Green, Head of Global Marketing for TekniPlex Healthcare, explains that the new material is designed for pharmaceuticals, veterinary drugs, nutraceuticals, supplements, and personal care (dental or cosmetic applications). "Anything that requires mid-level barrier (in the 40 to 90 gram PDVC-coated PVC range) can be packaged in this blister + lidding combination. Currently, only a peelable lidding is available with barrier properties," she says, adding that if the application requires push-through lidding, the blister + lidding combination wouldn't be appropriate.
A number of sustainable blister upgrades have come on the market recently—including recyclable non-barrier transparent packages, recyclable barrier packages in white, and recyclable barrier transparent blister film without matching lidding. But Green notes, "The true milestone in the TekniPlex offering is that it is a fully transparent barrier recyclable blister + lidding combination that patients can drop into the recycling bin (where recycling is available)."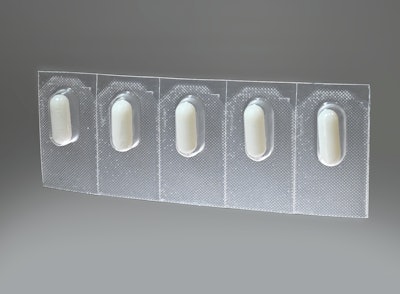 From a manufacturing standpoint, initial machinability analyses have been positive, with large-scale tests scheduled for the near future.
As companies evolve and make sustainable upgrades to packaging, packaging transparency is an important feature for brand owners to keep in mind, with benefits to the patient and caregiver.
"Having the ability to identify the right drug before you remove it from its protective packaging is crucial—and then having visible confirmation via an empty blister also enhances patient compliance," says Green. "Other added benefits of transparent packaging are in the manufacturing and inspection process—oral solid doses packaged in blister packaging need to be inspected for defects such as wrong color and size (dosage), whether tablets are broken or chipped, and whether there are empty pockets in the blister packaging itself. Transparent packaging makes it far easier to assess these potential manufacturing defects, identify them, and cull out the bad packages, increasing patient safety."
Chris Qualters, CEO of TekniPlex Healthcare, adds, "The ability to make transparent barrier blister packages recyclable is a crucial step toward healthcare materials circularity, one in which technical challenges needed to be overcome with extensive research, trials, and dedication,"
TekniPlex Healthcare also premiered a fully recyclable polyester mono-material blister + lidding combination, suitable for products that do not require barrier protection.
The company has also launched a new lower-weight reinforced coated paper for medical device protection. "The company's proprietary coating formulations and application technology result in rolls that can meet demanding performance and sterilization requirements," reports TekniPlex Healthcare. "The reinforced coated papers are suitable for the packaging of a variety of common healthcare items including syringes; tubing such as IVs, catheters, and airway filters; gauzes, sponges, and bandages; and devices sterilized by EtO and radiation. Notably, the slimmed-down product has already received its first commercial order, from a prominent manufacturer of swab sticks."
Both the fully recyclable blister packages and lower-weight reinforced coated paper are designed with TekniPlex's "Rethink Responsibly" concept in mind, which commits to continually considering what it means to provide responsible solutions to customers, their consumers, and the planet.
Weighing based on microwave resonance
Capsule and tablet weighers play a critical role in highly regulated pharmaceutical production, ensuring accurate dosages are packaged to be delivered to patients in need. At PACK EXPO International, Work Microwave, a Germany-based developer and manufacturer of RF electronics technologies and products, showed its WORKsens FT-96 Pharmaceuticals Weight Measurement Sensor (16). The sensor is based on the microwave resonance method and it's small enough to be integrated into a filling machine directly to characterize the weight of capsules and tablets in continuous production systems.

With traditional checkweighers, there's a limit to how fast products can move through machines. As product manager Lukas Lischke explains, conventional load cells in pharma checkweighers require that the individual tablets or capsules be at a standstill for a brief period of time for accurate measurement. The systems based on gravitational force are also sensitive to vibration, so checkweighers must be heavy machines (often ~1,000kg) to remain stable in the face of vibration on busy production floors. Most operations also require a lot of load cells to achieve the throughput pharma companies demand.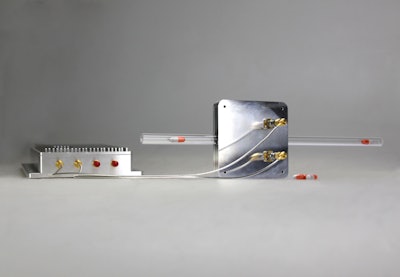 With the WORKsens FT-96, tablets or capsules flow through a duct tube of 12 mm outer diameter and are measured one at a time without stoppage at up to 15 capsules per channel per second. Units are compact, so they can be stacked to run in parallel for higher throughput.
"As it's based on RF microwave detection, the capsules can go in freefall—you don't need the stopping moment or the one square meter of floor space that traditional checkweighers require," Lischke says. "It can integrate directly into another company's filling machine, for example, and create a closed-loop cycle without a big distance. If 500 capsules pass through a distance before an error such as a clogged nozzle is detected, then you have to throw away everything that's in between. Here, your loop cycle is way quicker because your distance is way shorter."
As the company reports, "A data acquisition platform attached to the sensor head permanently monitors the resonator head for changes in product properties. This allows the sensor to detect if pharmaceutical tablets are fully intact or exhibit defects, with the option to reject under- or overfilled capsules or cracked tablets."
The sensor must be calibrated for each capsule. For a CMO or brand owner running a variety of tablets, they would calibrate the system initially before running a new product. After each initial calibration, there is no further recalibration required on product changeovers.
The WORKsens FT-96 was a finalist in the PACK EXPO International 2022 Technology Excellence Awards in the "Personal Care/Pharma" category. The sensor has the ability to harmonize with new digital Industry 4.0 concepts and has potential for continuous manufacturing of pharmaceutical products down the road, not just for its speed, but as a sensor that will help companies identify process drift or product issues in near real-time.
The sensor has a range of potential applications for weighing small products that require accuracy that are non-conductive. While the demo on show was for oral solid dose drugs, Lischke says the technology could even be applied to syringe and vial filling systems.
"We can build a resonator in a way that it is a fixture of the wheel already, and you can monitor the filling process from the empty bottle up to the correct filling weight," says Thomas Wiesner, regional sales director.
As drugs become more potent, and their volumes become smaller, companies must maintain filling accuracy both for regulatory needs and patient safety. "There are some applications where the filling volume is very, very small. Sometimes the filling weight is smaller than the tolerance of the single dose vial. In that situation, you cannot measure it anymore with a typical scale. But this system can detect low weights because you only measure the difference between the empty and filled single dose vial," explains Wiesner.
"Sometimes you even have droplet measurements—if you want to add specific volume by droplets. You can let those droplets fall through the resonator and you can measure the volume of each falling droplet," adds Lischke.
WORK Microwave is currently looking for beta testers, as the system is not GMP- or FDA-compliant yet. So, while a company cannot use this on the last step of their line for compliance, checking, and record creation, it can be used as a feedback system on a filling line to close the loop quicker. "You still need a conventional checkweighing system at the end of the line at the moment because the FT-96 is not yet compliant. Currently, we're looking for partners to run our system in parallel with conventional load cells for case studies that show we are as accurate or even more accurate than conventional load cells for each type of product," says Lischke.
Watch a video on this technology in action.
New inspection hood
At PACK EXPO International, Quantum Packaging Technologies showcased its Citadel XT+ manual inspection hood (17) for visual inspection of pharmaceuticals, devices, and drug delivery products.
Featuring manual lighting intensity adjustment, the standalone XT+ gives inspectors ease of use with manual light settings coupled with the company's TREAD MX PLC-controlled pacing console with password protected recipes and traceability.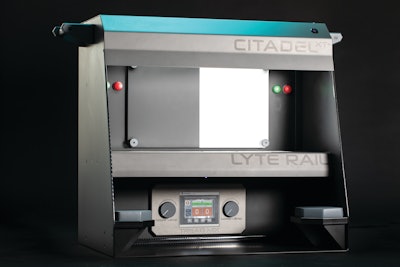 Explains Quantum's Scott Smith, "What we're doing differently in the industry is we're using a higher frequency, full-spectrum LED lamp. For the most part, the industry is still using fluorescent tubes today, as well as some LED but more on the NIR spectrum—more of a red color. We're leaning more on the blue-green side, which is easier on the eye and less of a sharp spectral spike than you'd get from fluorescent lights and better for contrast."
When operators inspect vials looking for particulate matter, fluorescent lamps' flickering lights can cause them to experience a vertigo effect or get tired and need a break. Says Smith, "Because these LEDs emit light so quickly, they're truly flicker-free, which is easier on the operators," he notes.
Quantum employs several technologies to eliminate glare during inspection. "We use a firearms coating on the hood, same as what's used by the U.S. Navy. For pharmaceuticals, it works really well because it's anti-reflective, anti-glare, and corrosion resistant. We do a lot of things to mitigate glare, including using a diopter system with nanocoating which is also anti-glare, and the whole entire hood is sprayed with a Polymer Derived Ceramic Compound. Cerakote comes in multiple colors so pharmaceutical companies can get a customized look on their equipment."
Temperature-sensitive label application
Designed for installation on virtually any WLS labeler, WLS' applicator (18) applies thermochromic vaccine vial monitor (VVM) labels that change color when exposed to an out-of-tolerance temperature for a set amount of time, indicating whether each container has been kept at the necessary temperature to preserve product efficacy. Running at high speeds up to 600 ppm, the VVM label applicator offers accurate label placement, easy operation and fast changeover.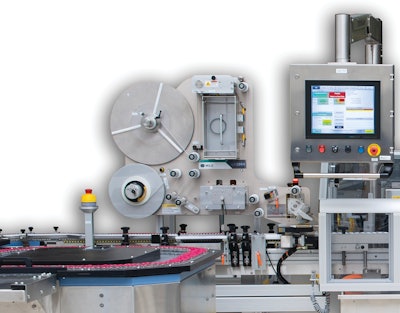 Suitable for vaccines, the VVM label applicator is ideal for pharmaceutical and medical device manufacturers and contract packers handling vials, bottles, or other containers that hold temperature-sensitive products.
To accurately apply the pressure-sensitive VVM labels, each container is positively transported via a servo-driven mechanism, which is encoded to the label applicator drive. The labeling head unwinds the label web and precisely applies a VVM label on either the top or side of each container. A camera verifies the presence and position of the VVM label and out-of-tolerance containers can be automatically rejected.
Designed for integration at the entrance or exit of a WLS rotary or in-line labeler, the VVM label applicator minimizes capital costs, floorspace requirements, and integration time. The applicator is fully synchronized to the host labeler's electronic drivetrain and operates via a single, integrated HMI for easy operation. Fast, recipe-driven, tool-less changeover can be completed on the applicator in less than 10 minutes. It is available with all of the validation options offered on a WLS labeler including Domain Authentication, 21CFR Part11 with Audit Trail, SCADA communication and more.
Pick and place feeder
Pharmaworks' compact pick and place system (19) can now feed even difficult-to-handle solid-dose pharmaceuticals and nutraceuticals such as fragile, unusually shaped, and orally dissolving products. The enhanced FA1 achieves new levels of gentle handling, virtually eliminates particulates from reaching the blister web, and accurately positions products within the blister cavities, all while simplifying operations. Featuring a cGMP design and running up to 80 cycles/min, the FA1 can be integrated with small- to medium-format size blister machines, including the TF1 and TF2 series from Pharmaworks as well as blister machines from other suppliers.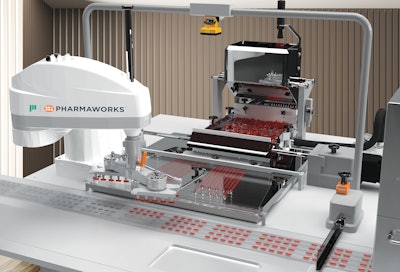 Previously, the FA1 relied on gravity to move product on feed tracks set at a 45-degree angle. Now, the enhanced FA1 can convey even challenging products more gently with fully-horizontal vibratory feed tracks. By leveraging vibratory motion, the new system has also eliminated the chance of "shingling," in which one solid dose gets jammed under another and creates a blockage. Once products have been conveyed to the end of the feed track, the FA1's servo-driven, pick and place vacuum head positions an array of solid doses, correctly oriented, into their blister cavities.
Suited to smaller batches, the enhanced FA1 can change over to a new format in as little as three minutes with no tools required and minimal change parts. Product recipes can be accessed via its PC-based color touchscreen HMI. Compared to tube feeders, the FA1 offers simpler and more affordable change parts and tooling. Workers can easily view and access the entire feeding process for line clearance and sanitation as well as maintenance.
Companies in this article