Kevin Grace is a long-time deer farmer/rancher at the Whitetail Sales & Services deer farm in Eldon, Mo. He found one part of his job was a constant cause of frustration, not to mention a waste of money. When his deer needed tranquilizing, or perhaps needed to be given an antibiotic, the standard delivery method was and continues to be via darts fired from a distance away. And Grace had significant issues with the darts that were widely available in the marketplace.
The number one problem Grace and his fellow farmers and ranchers experienced was never knowing if the animal received the total dose of medicine. He saw a need in the market for a better product and took the bull (or in this case, buck) by the horns and built one himself. After coming up with and tinkering on multiple design iterations, he worked with a machinist to create a prototype dart.
"I just had the idea. I didn't know how to do it," Grace says. "Once we figured out what we needed, I said, 'this is what you need to build me.' So, they built me a completely automated machine that builds the dart from A to Z.
"We wanted a dart you could fill right when you get ready to use it," Grace adds. "That way, you know what level of drug you're using. Or if you're going to use an antibiotic, which antibiotic to use."
After tackling various conspicuously named challenges like "bounce outs" and "tissue plugs," ClearDart developed a needle and hub partnership that eliminates these issues and allows for a more accurate medicinal dosage. The result offered a clear chamber tube so the contents would be visible, and features a fill-port in two different sizes.
"We have what we call a medicating size, which would be a bigger dart with a larger chamber so it can give more drugs at a time," he says. "And then we also make a dart that we call the petite dart, which would be used more for the small game industry like the deer or the antelope species, and that would be tranquilizing them."
With his initial problem solved, Grace turned towards his second biggest frustration with the dart products currently available on the market: the packaging. His main competition distributed darts in clamshell packs of five, which he says aren't ideal for a farm/ranch environment.
Recognizing that other devices were not user-friendly with their packaging, Grace envisioned a pack format that not only kept darts individually wrapped until right up to the point of use, but also supplied farmers with a lot more than five darts at a time. According to Grace, farmers/ranchers typically buy large quantities of up to 100 darts at a time, especially cattle ranchers.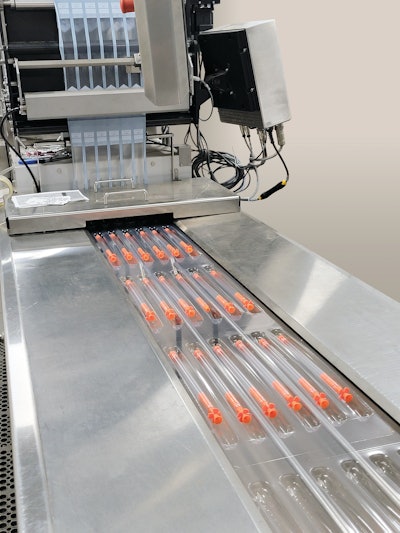 He preferred something like the standard banana-peel blister package that medical syringes might come in. This allowed the user to tear off a strip of the number of darts they needed, put them in their pocket, and head out into the field. The rest stay clean and ready to go back at the farm, to be used as needed.
"With our packaging, you can wad them up—three, four, ten darts, whatever—stick them in your back pocket, and open them up as you need them," he says.
Alicia Shoulders, regional sales manager – Midwest, Harpak-Ulma Packaging, LLC, is Grace's sales representative from Harpak-Ulma and was present recently when the TFS 400 thermoformer with a Bellmark Intellijet TS printer was installed at his farm. Grace found two machines he liked that could make a package that met his needs, but ultimately went with Harpak-Ulma since they offered a Midwest representative in nearby Kansas City.
"I always found it to be such a cool story because Kevin essentially saw a need in the market for a better product than what was commercially available, so he built the entire product from the ground up," Shoulders says.
Grace was so ambitious that he had the packaging machine delivered and installed before he was completely prepared with a product to run.
"I had a three-year payment plan, and it's now paid off," he says with a chuckle. "I kind of ordered it three years early." PW
Companies in this article