Degree Deodorant, a Unilever brand and maker one of the world's best-known antiperspirants, introduces what it calls the world's first inclusive deodorant for people with visual impairment and upper limb motor disabilities: Degree Inclusive.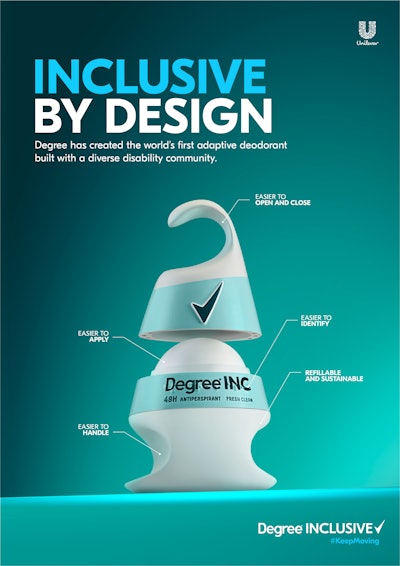 One in four Americans has a disability, yet products are rarely designed with this community in mind. According to the brand, across the beauty industry, there is currently no deodorant product suitable for people with upper body disabilities to use. Twisting a deodorant cap, turning a stick, or pushing down on a spray with limited arm mobility is a real challenge. In addition to meeting the needs of those with disabilities, Degree Inclusive offers refillable packaging to limit waste impact and a gender-neutral fragrance.
Degree partnered with an inclusive team of design experts from brand agency Wunderman Thompson, including occupational therapists, engineers at SOUR Studio, consultants, and people living with disabilities across the globe to create a prototype for Degree Inclusive. Driven by a mission to make the deodorant application process more accessible, Degree Inclusive has been designed with the following features as noted in the brand's product development video.
A hooked cap design and integral handle on the base for one-handed usage
Magnetic closures that make it easier to take the cap off and put it back on for users with limited grip and/or vision impairment
Enhanced grip placement for easier application for users with limited grip or no arms
A braille label with instructions for users with vision impairment
A larger roll-on applicator to reach more surface area per swipe
To ensure this original prototype is effective and accessible, Degree is now currently in a beta program to engage and get input from people living with disabilities. In partnership with The Chicago Lighthouse, Open Style Lab, and Muscular Dystrophy Association, Degree has invited 200 people with disabilities in the U.S. to trial the prototype design and share their feedback with Degree on its concept, product features, and messaging, to help improve the innovation for its future commercial launch.
"As a brand that's committed to inspiring confidence in everyone to move more, Degree believes no one should be held back from experiencing the transformative benefits of movement," says Kathryn Swallow, Global Degree Brand Vice President. "More than 60 million people in the U.S. live with a disability, yet products and experiences are still not designed with this community in mind. With Degree Inclusive we hope to inspire bold action across the industry to ensure that people with disabilities have an equal playing field."
---
| | |
| --- | --- |
| | Watch this Take 5 video that reports on consumer research from the Consumer Brands Association, ISTA, and Smithers Pira describing people's desire to match their values with those of the brands that they buy. |
---
The brand says that Degree Inclusive marks the beginning its frontier into accessible design and the brand looks forward to making further progress on its long-term commitment to create equitable access to movement for all.
"Breaking stereotypes unleashes creativity and drives growth. Degree Inclusive challenges what a deodorant product should be. It's a breakthrough accessible design that genuinely serves the needs of people with visual impairment and upper limb motor disabilities," adds Aline Santos Farhat, EVP of Global Marketing and Chief Diversity and Inclusion Officer at Unilever.
Prototype development
Developing an entirely new pack out of whole cloth for a specific community involved a lot of R&D. Degree sought out prototyping and design consultant SOUR to take this process on.
"In addition to desk research and expert interviews, we collaborated with eight people living with diverse disabilities to explore challenges in deodorant application, co-ideate solutions, and gather feedback on design iterations," says Pinar Guvenc, Partner at SOUR. "The design is inclusive of people with limited mobility or visual impairments, while also bringing ease in application and flexibility in use to a broader audience."
The studio 3D printed various iterations in-house in order to test ergonomics. After several iterations, Guvenc shared the 3D print prototypes with the co-creation panel, including other stakeholders, to gather feedback on the form and ergonomics. This feedback led the company to the final prototype.
"The final prototypes have been scaled for the trial through reaction injection molding, using PU [polyurethane]," Guvenc says. "The pack consists of four components: The hook cap, the thread body (that allows for the pack to be refillable), the base and the roll-on ball. The base is hollow to house deodorant content, and the hook cap is hollow to store the roll-on ball."
---
---
Six magnets are used, three on each end of the cap and the base. SOUR had to ensure that the cap did not attach to the base incorrectly, misleading the visually impaired users to assume the cap was closed when it wasn't. So, the magnets are situated in a way that would only allow for the hook to make a 180-deg turn, and make sure it's a tight close either way.
The magnets also provide auditory confirmation for the visual impaired on closure as well, so SOUR used a number and configuration that delivered an audible "click" sound, and a tactile "click" feel. The separation does not require much force when pulled down, either when hanging by its hook, or when held on the other hand. At the lip of the base, a molded teal-colored collar "label" includes the product description in print, and in braille for the visually impaired.
Still in beta-testing, neither retail pricing for starter kits, nor pack design or price for refills, are available yet. Packaging World will follow this story through commercial launch. - PW