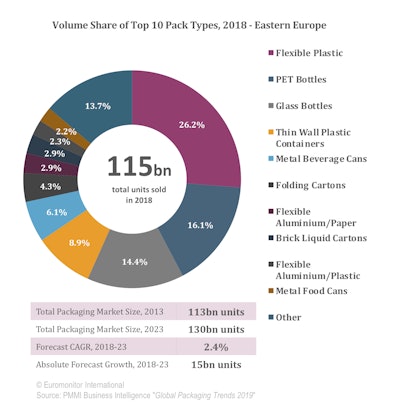 According to "Global Packaging Trends," a new report compiled by Euromonitor International for PMMI Business Intelligence, Poland is expected to have the largest packaging growth in the region, with a 5.6 billion unit absolute volume growth by 2023.
Bottled water, juice, and energy drinks are forecasted to grow, and like other areas of the world, Eastern European millennials are demanding premium beverages. Poland remains a strong performer in the beer, wine, and spirits market, and the regional Eastern European beer market is expected to see absolute volume growth of 1.1 billion units by 2023. Packaging will remain mainly in glass bottles, with a small share of varied packaging types.
Flexible plastic is also growing in Eastern Europe, with an expected 3.0 billion unit absolute volume growth by 2023. Poland will see the biggest growth, but flexible plastic is also the main packaging choice in the Ukraine, especially in confectionery. The Romanian market is expected to see growth in PET bottles for bottled water, carbonates, and juice.
Consumers across Eastern Europe expect packaging to be sustainable, with resource-efficient, versatile plastic driving packaging trends. Glass packaging serves consumers' desire to avoid contributing to global plastic pollution in Eastern Europe, and bag-in-box packaging, which mixes the benefits of plastic with more appealing external packaging, is expected to grow as it appeals to eco-conscious consumers.
Many consumers are also focused on a healthier lifestyle, with smaller pack sizes being used to limit intake and impose portion control, while also creating more packaging opportunities in higher quantity, with packaging unit volume sales growth outperforming food volume growth in confectionery, dairy, savory snacks, and baked goods.
Across Eastern Europe, the largest categories across packaging types are food and beverages. Home care, dog and cat food, and beauty and personal care are all slivered segments with some relatively small variation by country.
Spotlight:
The pet food market - split fairly evenly between dog and cat food in terms of absolute growth by category across Eastern Europe – continues to grow as pet ownership grows.
In beauty and personal care, rigid plastic is the most used pack type, followed by flexible packaging and paper-based containers (folding cartons, squeezable plastic tubes, HDPE bottles).
Home care packaging stands out in Ukraine, making products conspicuous on shelves and improving customer experience through smaller sizes and designs such as bottles with attachments to prevent lost caps, tablets, and capsule formats.
Health is a key influencer of product and packaging development, with Eastern Europeans seeking to combine ethical and sustainable packaging with sizes to moderate consumption and maximize convenience.
The competitive landscape in Eastern Europe is characterized by global players leading within their respective industries in 2018 - except for packaged food, where private labels led the market owing to well-established logistics in most regions. Upcoming changes in legislation requiring packaged food to be in line with EU standards, however, are expected to benefit global players.
Source: "Global Packaging Trends," Compiled by Euromonitor International for the Packaging Machinery Manufacturers Institute (PMMI). PMMI Members can download the full report for FREE, here.
Australian Packaging & Processing Machinery Association (APPMA)
PMMI, The Association for Packaging and Processing Technologies
UCIMA, Italian Packaging Machinery Manufacturers Association
Symop, French Association for Manufacturing Technologies
Make plans to visit PACK EXPO Las Vegas, September 23-25, to see on-trend packaging machinery and materials.