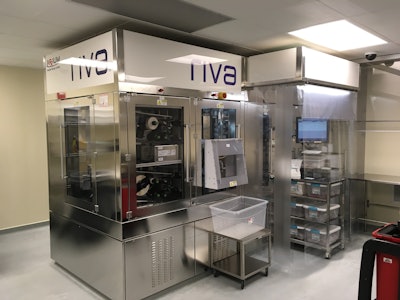 In 2018, for the sixth time in the past seven years, Asheville, NC-based Mission Health was named one of the U.S.'s Top 15 Health Systems by IBM Watson Health. Mission Health, which operates six hospitals, including Mission Hospital, was also recognized last year as one of the nation's best hospitals by U.S. News & World Report, one of only 29 hospitals in the country to receive that status.
This level of excellence is achieved in part by employing advanced technology, which includes two RIVA™ automated IV compounding systems from ARxIUM that sterile-fill liquids and lyophilized products into IV syringes and bags for administration to Mission Health patients. Mission Health employs the RIVA systems in an 864 sq-ft cleanroom suite within its 10,000 sq-ft central distribution pharmacy located at Mission's Materials Management Distribution Center. Built in 2010, the suite meets USP <797> guidelines for the sterile preparation and compounding by pharmacies of medications administered through injection.
The RIVA units run from 6 a.m. until 8:30 p.m., seven days/week, in total filling some 4,800 syringes and 1,200 bags/month, according to Josh Powell, PharmD, Mission Health's PharmD Pharmacy Operations Manager at the distribution center.
Although technicians do manually prepare some medications, Powell says the RIVA systems are employed to automatically "manipulate" or fill meds for Mission Health patients.
For Mission Health, one RIVA is dedicated to filling syringes, another to IV bags. Powell explains the reasoning behind this decision: "If we dedicate one RIVA to do all syringes, then we can load a bunch of syringes in it and not worry about changing them out and replacing them with bags for the next batch. That provides us with greater consistency." That same philosophy extends to the RIVA unit for IV bags.
IV bags
The first RIVA machine was added in 2010 when Mission Health opened the facility. This RIVA produces bags for three products; two in 500-mL sizes and a third in a 100-mL offering. These are all clear Viaflex-brand flexible PVC container bags supplied by Baxter.
The 500-mL bags are compounded with either phenylephrine to help control heart rate and blood pressure, or oxytocin, used to help induce labor. The 100-mL bags contain diltiazem, a calcium channel blocker used to treat hypertension, angina and certain heart rhythm disorders.
Syringes
Syringes are also used for preparing phenylephrine bolus injection, as well as for rocuronium, a paralytic used to relax muscles during general anesthesia, and nitroprusside for blood pressure, heart rate and cardiovascular issues.
The newer RIVA machine fills 5-mL and 10-mL plastic syringes, provided by BD, and closes the syringes with caps from Covidien. Mission Health receives syringes in packs, some with needles pre-attached. Trained staff load the empty syringes into the RIVA machine.
From an external computer workstation located outside the cleanroom, staff input data on the specific syringe types into the RIVA computer, including characteristics such as syringe weight, density, size dimensions, rubber stopper, vial and cap, etc.
The RIVA machine includes "racks" that actually house liquid medication within a clamping device tailored to match a specific vial size. Racks are removable for cleaning and maintenance.
Mission Health added the second RIVA to handle increased volume demand. "When we first looked at RIVA, the idea was that we would be performing patient-specific doses for pediatrics," says Powell, "and our decision to use the technology was guided on a need for medication safety.
"In time, we advanced from that patient-specific dose model and worked into a batch preparation model, meaning that we were doing large batches of medication for our patients," he explains, noting that Mission Health focuses on medications for which it has conducted extended stability studies, conforming to USP <71>, which regulates how sterility testing is performed in pharmacy applications.
Bottom-line benefits
Employing the automated RIVA systems has provided numerous benefits for Mission Health. Key among them are the following:
Patient safety. Says Powell, "The systems help us make sure that we have the right product and the right drug every single time for our patients."
Reducing drug and consumables waste. "Because of the accuracy of the machine, we're confident that we're not going to waste drug supplies or the consumables associated with it. Those costs can be significant," notes Powell.
Drug shortages. The RIVA systems allow Mission Health to build up products that may be difficult to acquire from outside sources.
Reduced outsourcing costs. "Decreasing the need for outsourcing to other pharmacies is a big business consideration," says Powell. "That can be quite expensive. So, if a patient needs a specific medication, we likely can produce it in the pharmacy and get it to one of our six hospitals."
Reduced labor costs and preparation time. Powell says the RIVA systems free up compounding staff to focus on products that require manual manipulation.
Small footprint. Each RIVA occupies a 13x14-ft space and stands approximately 7-ft tall.
Powell says it's possible Mission Health will add another RIVA system in the future. Given all of the benefits gleaned from the first two units, a new addition sounds like a suitable Rx.
Editor's note: Part 2 of this story describes the syringe and IV bag filling processes in more detail.
Companies in this article