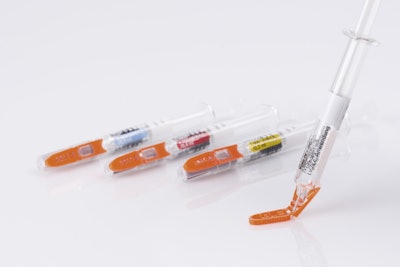 Syringes for Pfizer's epoetin biosimilar have been outfitted with Needle-Trap needle protection labels from Schreiner MediPharm. The pairing marks the first time Needle-Trap will be utilized with medication for the treatment of anemia. The newly equipped needles will begin usage in Germany and Austria, followed by a rollout in the broader European market.
New York-based Pfizer, one of the world's largest pharmaceutical companies, develops medicines, vaccines and over-the-counter products that aim to enrich and extend life. In search of a reliable solution to protect healthcare personnel from needlestick injuries when injecting the company's epoetin product for the treatment of anemia, Pfizer chose Needle-Trap, from Germany-based Schreiner MediPharm, a global provider of specialty pharmaceutical labeling solutions.
Pfizer has been using the innovative label-based needle protection system on millions of syringes for a heparin drug since 2009.
Needle-Trap features a unique design in that the plastic needle trap is an integral component of the label for prefilled syringes, securing the needle after the injection has been performed. Due to its special design, it can be easily integrated into existing pharmaceutical manufacturing processes. Only minor modifications of the finishing and application equipment are needed, and there is no need for adaptation of secondary packaging. Minimal space during shipping, storage and disposal are required.
Schreiner MediPharm's Needle-Trap meets the requirements of EU Directive 2010/32/EU, U.S. NIOSH for safe instruments and DIN EN ISO 23908 for sharps injury protection. In addition, it has been cleared by an FDA 510(k) Premarket Notification in the U.S.
A cost-effective alternative for prefilled syringes, Needle-Trap is intuitive due to its special design. It features simple and irreversible activation, and requires no changes to the user's injection technique, as the needle protection is integrated into the syringe label.
More than 10,000 research scientists and some 97,000 employees at Pfizer develop, produce and sell innovative medicines and vaccines as well as some of the world's best known over-the-counter products. In Germany, Pfizer currently employs roughly 2,500 people at three locations: Berlin, Freiburg and Karlsruhe. Biosimilars, which are generic biopharmaceuticals, represent an important field for Pfizer in the future. The company consistently invests in their research and development. As an economic alternative, biosimilars make it possible for more patients to access a broader range of therapies.
Companies in this article