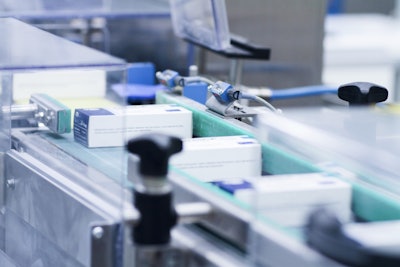 According to Global Trends Impacting the Market for Packaging Machinery 2018, a new report by PMMI Business Intelligence, the pharmaceutical market has been hurt over the last several years by the expiration of patents for a number of blockbuster drugs – also known as the patent cliff. Though significantly impacting revenues of some of the leading pharmaceutical suppliers who are no longer able to charge a premium for their product, this has also resulted in more competitors entering the market with low-cost products.
The increase in the number of products being sold to the market also increases the number of different packages that are being produced. This trend is expected to continue as several other patents are due to expire in the next few years; an estimated $60 billion of drug sales from leading pharmaceutical companies will be at risk for competition.
The US Food and Drug Administration (FDA) approved 51 new drugs in 2015; the highest number in the past 66 years and second highest on record. This includes breakthrough medicines for heart disease (from Novartis), high cholesterol (from Sanofi and Amgen), cancer (from Merck and Bristol-Myers Squibb), and hepatitis C (from Gilead Sciences). The market has also consolidated in recent years, for example the GSK acquisition of Novartis and Actavis acquiring Allergan (at approximately $66 billion).
Some of these examples are already multi-billion dollar medicines; those that are not yet are expected to reach such levels in the future.
With a number of leading drugs now off-patent, additional acquisitions are expected, such as the 2015 bid by Teva Pharmaceutical Industries Ltd. for US-based, Netherlands-registered Mylan, as large multinationals look to add new technologies and revenue streams.
Source: PMMI Business Intelligence, "Global Trends Impacting the Market for Packaging Machinery 2018." Download the FREE Executive Summary, or the full report here.