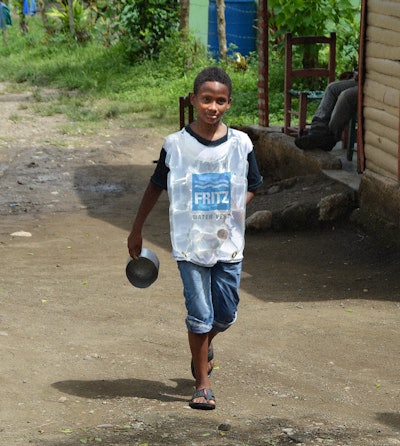 The Fritz™ Water Vest from Solutions Inc., a not-for-profit company that utilizes current packaging technologies and attempts to create products that improve the quality of life for all people in the world, is the winner of this year's Diamond Award in the annual DuPont Awards for Packaging Innovation.
This simple but appropriate packaging solution has been enthusiastically embraced in developing countries where water-transport issues exist. In remote areas of such countries, accessing drinkable water requires people—most often women and children—to spend many hours a day carrying heavy, unhygienic, and non-ergonomic containers on their heads and shoulders. This causes significant physical stress on their bodies over time and presents serious risk of water contamination. The Fritz Water Vest allows users to carry up to 20 lb of water safely and hygienically, with the weight evenly distributed across the chest and back. It's an innovative application of modern packaging technology that solves water-access problems for at-risk populations.
The vest innovatively incorporates relatively new materials to accomplish two key functional needs. The multi-layer nylon structure provides a robust material suitable for rough terrain and multiple uses in dry and rugged environments. The proprietary lamination uses several layers for functional protection and allows for quick heat sealing during manufacturing. In addition, an additive included in the material inhibits the growth of mold, mildew, and odors. Together these properties provide a robust, hygienic, and reusable water-carrying and storage pouch. The Fritz Water Vest is an out-of-the-box solution for a significant global problem.
For more on this award-winning concept, visit pwgo.to/2946.