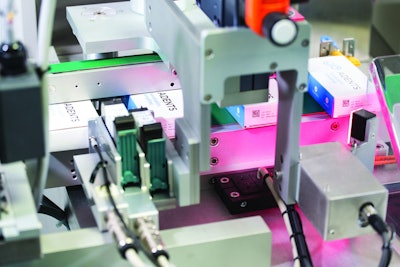 Fully configurable drug serialization and aggregation software from Adents is now installed on seven packaging lines at four sites in France for a European pharmaceutical contract manufacturer with a dozen production sites.
The CMO requested short-term implementation to serialize saleable units for four markets—China, South Korea, Brazil and the U.S.—along with the ability to upgrade the installation to embrace pending track-and-trace mandates in 10 other countries.
Adents' serialization solution is hardware-agnostic, compatible with a wide range of equipment. That benefit was a key selling point for the CMO, which plans to equip as many as 80 lines to address increased demand as serialization deadlines in America and Europe approach.
The Adents serialization and aggregation suite enables companies to achieve traceability and documentation compliance easily, addressing both current and emerging regulations while also minimizing impact on production processes and productivity.
For implementation, the CMO established a two-level decision-making organization: a group leadership team to manage procurement and global governance, and serialization project management teams at each site.
In its effort to realize a workable, forward-thinking serialization solution, the CMO faced a challenge common to pharmaceutical manufacturers of its size: the lines being outfitted had a wide array of differing specifications. The company's packaging operations were diverse, ranging from manual lines producing 40 items/min to semi-automatic operations producing 300 units/min.
The CMO was able to leverage existing equipment as much as possible, allowing it to optimize its project budget, reduce training and documentation, and simplify support and vendor management.
Five of the CMO's lines were already equipped with H2M and Seidenader modules, so the remaining two lines that required additional equipment were outfitted with new H2M modules for continuity's sake. Adents' software also supports a range of requisite add-on devices from a variety of brands. In this instance, the CMO chose machines from Domino, Zebra, Keyence, Cognex and Omron vision systems with the reassurance that, via the Adents software, all would work well together to form a comprehensive serialization solution.
Fast results
The first line was installed in 2.5 months, much of which comprised arrival and installation time for the aforementioned new equipment. The remaining steps included the following:
Documentation (project quality plan, functional analysis, protocols): one month

Set-up and qualification by machine builder (FAT & SAT): two weeks

Set-up in client plant by Adents (configuration and installation): one week

Qualification in Adents office (FAT): one week

Qualification in client plant (SAT): one week
Each of the other lines was incorporated in less than six weeks. A rework station was set up on each line as well. Because a comprehensive FAT was performed by Adents upfront, line downtime was reduced to a maximum of one week for new qualification (SAT/IQ/OQ/PQ), minimizing the impact on production capabilities.
In all, seven lines were installed at four different sites in France for this CMO, with 10 different packaging formats enabled on a single line. The client now provides serialized production services for at least four big pharmaceutical companies and has the capacity to address larger demand and a variety of expanded customer requirements.
Companies in this article