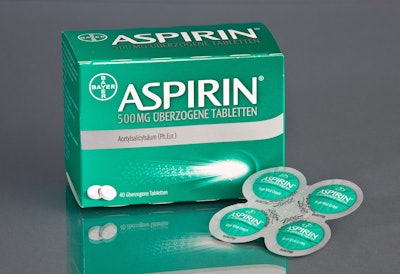 Known as a young sprig of clover, the shamrock is a symbol of Ireland typically associated with Saint Patrick's Day that was traditionally used for medicinal purposes. Today, it's a cloverleaf-shaped "Shamrock" blister package for a fast-acting aspirin that's bringing good luck for Bayer AG, the Leverkusen, Germany-based lifescience company.
Packaging of Bayer ASPIRIN® 500 MG aspirin is done at the company's manufacturing plant in Bitterfeld, Germany. That's where Bayer produces over-the-counter solid-dose pharmaceutical powders, granules and tablets, including this aspirin. The cloverleaf-shaped shamrock package contains four aspirin, one tablet within each of the four cavities within this unique four-pack. Different multiples of these shamrock packs are subsequently placed within an outer folding carton for over-the-counter sales. The package is sold in some European countries, Latin-America, Mexico, and Brazil.
Dr. Wolfgang Fischer, Head of Process Technology, Consumer Health Division, Bayer Bitterfeld GMbH, says the aspirin is a chemical form of acetylsalicylic acid. "It provides pain relief in 15 minutes, about half the time as competitive products. I don't think our competitors offer anything like it," he says.
At his Feb. 28 keynote presentation at the Healthcare Packaging & Processing Conference held in conjunction with PACK EXPO East in Philadelphia, Guido Schmitz, Head of Packaging and Technology Innovation at Bayer Healthcare, described the product as a new kind of aspirin, one whose key differentiation from the aspirin products sold by Bayer for the last 120 years is that it dissolves far more rapidly upon ingestion.
To complement this new aspirin, Schmitz says Bayer sought a very different packaging format, which would require a significant capital investment. If that wasn't enough of a challenge, the packaging had to address the product's susceptibility to humidity damage.
Fischer says the Bitterfeld facility uses two packaging lines for the Shamrock packages. "Some of the packaging machinery is identical on the two lines, some not," he explains. "It depends on the market where we are selling the product. In Latin-American countries, for example, they use large 80- and 100-count packs." One of the reasons for the larger packs used in this market is that pharmacists can remove a single four-pack from the carton and sell it along with a product leaflet.
Overcoming a tough U.S. start
Initially, the Bayer U.S. team worked with packaging partner Romaco to brainstorm packaging ideas, which led to the use of a strip pack with a design that ultimately resulted in the Shamrock blister.
In the U.S., however, consumers are more familiar with taking smaller-sized aspirin from a bottle. So, despite Bayer's affection for the strip pack design, Fischer explains, "This formulation was launched in the U.S. in 2013 in a high-density polyethylene bottle, which included a desiccant, but it wasn't successful."
Why not? Fischer says, "I think product degradation was a key reason why. Each time you take a tablet out of the bottle you introduce more humidity. So when you pour out tablets and they touch your humid palm and you put the rest of the tablets back into the bottle, that's enough humidity to start the degradation of the product. When you open the bottle the next time it might smell of acetic acid from this product degradation, which we believe is a reason why people didn't like this product." Within months, he says, Bayer stopped production of the product and package in the U.S.
After making an economic investment in both the new aspirin product and packaging research, it's understandable that Bayer wanted to sell the product in other geographic markets.
"We were looking to avoid the human contact and the challenges of humidity," Fischer recalls. "In Europe, blisters and pouches are common. Even though aluminum packs were expensive compared to blisters, we felt we had a good product and the foil could maintain product stability much better [than a plastic bottle]."
Peel open, not push-through
In moving forward with the Shamrock package, Bayer found a materials supplier in LEIPA in Germany. Fischer describes the structure as a top-and-bottom foil construction with a polyethylene-based adhesive layer. The aluminum provides humidity barrier and child-resistance.
Anywhere from one to 10 four-pack shamrocks are packed into a two-chamber folding carton wherein a paperboard divider creates a small chamber that holds an informational leaflet while the shamrock packs are held in the larger chamber.
Fischer credits Romaco with developing "a series of packaging machinery 'reinventions' for primary packaging and robotic secondary packaging. Optimizing the new concept after its initial launch was part of the roadway to success, especially where the notion of this being a 'blister pack' was concerned. Why? Because consumers are used to treating blister packs of all kinds as push-through packs. This pack was not of the push-through variety. Instead, consumers were supposed to access the unit dose by tearing open the pack. So graphics on the top layer of the package made this clearer."
Packaging partnership
Aspirin ingredients are processed at Bitterfeld and delivered via stainless-steel containers to help address the humidity concern. The containers bring the materials to a feeding device that deposits them into the hopper of a two-station Fette compression machine within a humidity-controlled room. Afterward, the compressed tablets are driven by automated guided vehicle to the Romaco line and fed onto a vibration device.
Bayer worked closely with Romaco Siebler for the packaging equipment used for the Shamrock packs. Fischer recalls first seeing the Romaco Siebler strip packaging machinery at a European trade show in 2013, where Bayer purchased the machine directly from the show floor.
Martin Grau, Siebler's Product Manager, explains that the partnership is more complex than simply providing machinery. He says Romaco worked with Bayer to achieve the following:
• Provide a new package for Bayer and consumers
• Offer package differentiation from standard blisters or pouches
• Provide "on-the-go" consumer convenience
• Offer child-resistance and senior-friendliness
• Allow separation into individually packed tablets
• Permit printing space for variable data on each single tablet pocket
• Provide long-term stability with extended shelf life
• Fit into Bayer's aspirin logo templates
Grau says, "This was one of the most interesting projects in my business career so far as it is quite rare that a machinery supplier is deeply involved with a customer in designing a new kind of packaging for a new version of a blockbuster medicine."
The packaging process
The first machine on the line is the Siebler HM1-350 heat-sealing machine, which has separate reels for the top and bottom foil webs. The reel for the bottom foil is equipped with 10 ink-jet heads and a printer from KBA Medtronic, with codes and print verified by an Optical Character Recognition Camera system from Laetus.
Tablets are distributed from a buffer hopper to a feeding device with 10 tracks that indexes each tablet into a relevant pocket following the pattern on the sealing tools. The machine's "QuickSeal" sealing station seals together the top and bottom webs via a combination of temperature and pressure. Afterwards, a mechatronic system checks for the presence and position of tablets within the sealed pockets.
Next, a dual station punches the materials from two opposite directions to create the Shamrock four-pack. There are two punching stations arranged in sequence, where the first punches out complete rows, leaving one row in the web at each cycle for the second punching station, so each punching station works at a maximum of 80 cycles.
Another benefit of the Shamrock pack comes into play here, as Fischer explains: "Normally when you cut a four-pack you end up with a square shape with four sharp corners that could cut your shirt pocket. The way these are cut with rounded corners that's no longer an issue."
After another camera confirms the exact position of each sealed-and-cut pack, the robotic Siebler FlexTrans 1-900 stacks the desired quantity of shamrock packs required for each carton. The machine not only stacks the packs but also serves as a buffering unit to prevent possible overflows downstream that could stop the line.
Part of the Romaco line includes a picker staggering module from ABB. For cartons containing fewer than 10 of the Shamrock packs, Bayer uses a Romaco Promatic PC4250 cartoner and pre-folded cartons from a magazine that are opened and presented in front of the stacks of shamrock-shaped strips. Cartons are supplied locally by Braun Pharmadruck.
For cartons containing upward of 10 Shamrock packs for Latin American markets, Bayer uses a cartoner from Somic. In this instance, the Promatic PC4250 cartoner is shut off, allowing cartons to proceed through to the Somic, which folds the carton around the Shamrock packs during the process.
Regardless of what cartoner is used, product leaflets, which are supplied in reel form, are cut and folded before being presented in front of the open cartoner where pushers move each leaflet into each carton. To avoid using the wrong leaflet and carton combination, each SKU is printed with a different barcode that's subsequently inspected by a barcode reader. A wrong or undetected code triggers a rejection of such a pack.
Cartons exiting either cartoner continue to downstream checkweighing, bundling, and case packing on existing equipment at the Bayer facility.
Looking forward
Fischer says there are currently no plans to reintroduce the Shamrock pack in the U.S. market, but he does say it is selling well in other global markets.
The bottom line? The new Shamrock package has brought good luck to Bayer by boosting sales for the aspirin.
Companies in this article