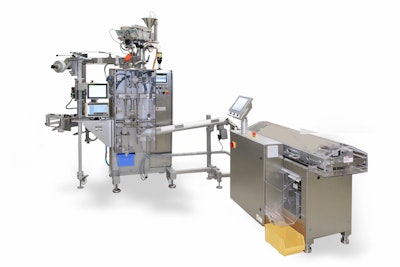 Almac Group, the global contract development and manufacturing organization, has expanded its MHRA/FDA-approved UK commercial packaging facility with the acquisition of a stick sachet packaging line from Merz.
The acquisition comes in response to growing demand for packaging of pediatric drug products, specifically powders, minitabs or granules, into stickpack sachets.This investment was made in partnership with a long-term commercial U.S. client (that has worked with Almac since 2010) seeking an integrated commercial manufacturing and packaging solution for the EU supply of their new pediatric formulation drug product.
In line with EU Paediatric Regulations (EC1901/2006 and EC1902/2006), the U.S. client implemented its Pediatric Investigation Plan (PIP) and developed and launched an age-appropriate formulation to meet infant patient needs; with Almac manufacturing the pediatric granules, primary packing product into stickpack sachets and then into wallet cards.
To facilitate the packaging of pediatric dosage forms, the investment was made in Merz Stickpack technology.The SBL-50 is a fully automated forming, filling and sealing machine capable of filling 80 stick packs/min.This flexible technology not only meets the stick pack presentation needs of Almac's current clients but has capacity to process new pediatric drug products (powders, granules and minitabs) that require this specialty packaging.
David Downey, Almac's VP Commercial Operations, says, "Almac continues to expand our commercial packaging capabilities and the addition of this stick pack solution strengthens [our] position in providing flexible services to meet various market needs from small-volume orphan drug products to large-scale marketed products in both adult and pediatric forms."
Holger Merz, General Manager at Merz, says, "The innovative and committed team at Almac set up a compact, highly flexible packaging solution for micro tablets and powders in stick packs to service the growing demand for this user-friendly dosage form. Advanced primary packaging forms like stick packs offer flexibility for diversification of pharmaceutical products."
Companies in this article