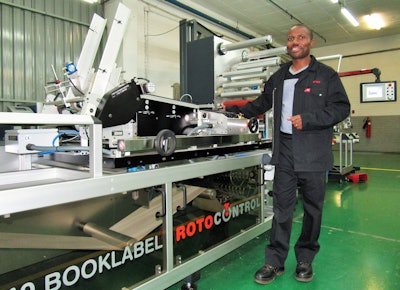 South African printer Rotolabel recently invested in of two ROTOCONTROL machines to help meet pharmaceutical booklet growth.
Purchased was a BL440-series high-speed booklet machine combined with an RSP-H series 100% pharmaceutical inspection machine, as well a vision system from AVT. Also included in the sale was an AVT Helios vision system providing advanced 100% automatic label inspection and quality assurance. Managing the sale and installation was ROTOCON, the local agent for ROTOCONTROL and AVT in South Africa.
With operation speed up to 65m/min, the ROTOCONTROL BL440 series produces booklet labels with variable scopes and formats, using large-diameter idler rollers, a direct web path, and web widths up to 510 mm. The ROTOCONTROL RSP-H series is specifically designed for compliance of demanding security label inspection and finishing applications.
Founded in 1982, and acquired by the Bidvest Group in 2008, Rotolabel supplies labeling solutions in southern Africa. Their new booklet and inspection finishing solution from ROTOCONTROL and AVT will be primarily used to broaden the finishing of their pharmaceutical XPandalabel™ booklet labels in their Johannesburg factory where 100% compliance is mandatory.
Khorommbi Nelwamondo, General Manager of Rotolabel says, "After an evaluation of our business and market, it was evident that investing in growing our pharmaceutical offering, specifically our XPandalabel™ line of booklet labels was advantageous. ROTOCON presented the ROTOCONTROL pharmaceutical booklet finishing capabilities with the integration of the AVT inspection system as a valuable combination. With this solution now fully operational, we have a powerful pharmaceutical offering for the growing demand of the South Africa market, and are fully supported locally by ROTOCON through their expanded new location in Johannesburg."
Companies in this article